In her most recent appearance on the BFFs podcast, Dixie D'Amelio talked about rumors that she broke up with her boyfriend and fellow influencer Noah Beck.
Dixie D'Amelio is one of the most popular creators on TikTok. Her account, where she posts videos with her friends and family, has over 57 million followers.
Since October 2020, the star has been dating another TikTok star, Noah Beck. Since they've been together, they've gained a lot of fans.
Despite this, there have been rumors that they are breaking up, and the couple even had to deny that they were just pretending to be together to get more views.
During her appearance on BFFs episode 83, Dixie addressed the most recent round of allegations that she and Noah had broken up.
"We have decided to fully take our relationship off the internet, and whether we're together or not. Or, if you want more information you can watch our Hulu show which is coming out later this year."
Dixie said when asked how she was meant to "hide" her relationship: "I mean, just not like posting each other as much, I mean I posted for his birthday but that was about it. We don't post together, we don't like comment on each other's posts, just because it's so… The more you do it, the more it brings people in like, 'oh my gosh, they didn't like each other's post today, they're broken up,' and it's just so draining."
She wouldn't clarify whether she and Noah are still dating, but she did add that staying off social media has "helped so much."
Noah Beck and Dixie D'Amelio's Relationship Timeline
After breaking up with fellow TikTok star Griffin Johnson in 2020, D'Amelio was introduced to Beck. Both were 19 at the time, but they didn't come out of the social media closet until October of that year.
Beck stated that D'Amelio was afraid to discuss specifics of her romance with the public because of the public's perception of her prior relationship.
"The amount of times we've gotten like, 'Oh, this is just a publicity thing.' Dixie and I love each other. We're just like any other normal teenage couple," Beck told PEOPLE. "Yes, we have a huge spotlight on us, and it gets overwhelming — like these constant comments. But other than that, we're just two teenagers in love with each other and couldn't be happier."
All the details of Dixie D'Amelio and Noah Beck's relationship, from their first meeting on TikTok to the heartwarming tributes they've received on social media, are laid out here.
July 2020: Noah Beck and Dixie D'Amelio make their first TikTok together.
After D'Amelio and Johnson's very public breakup, the social media sensation started dating Beck (Johnson's Sway House bandmate). Back in July of 2020, speculations of a romantic relationship between D'Amelio and Beck began to circulate when the two began uploading photos and videos together on TikTok and Instagram. The happy couple's first TikTok video had them singing and dancing to D'Amelio's "Be Happy."
August 2020: Noah Beck films The music video for Dixie D'Amelio's "Be Happy [remix]"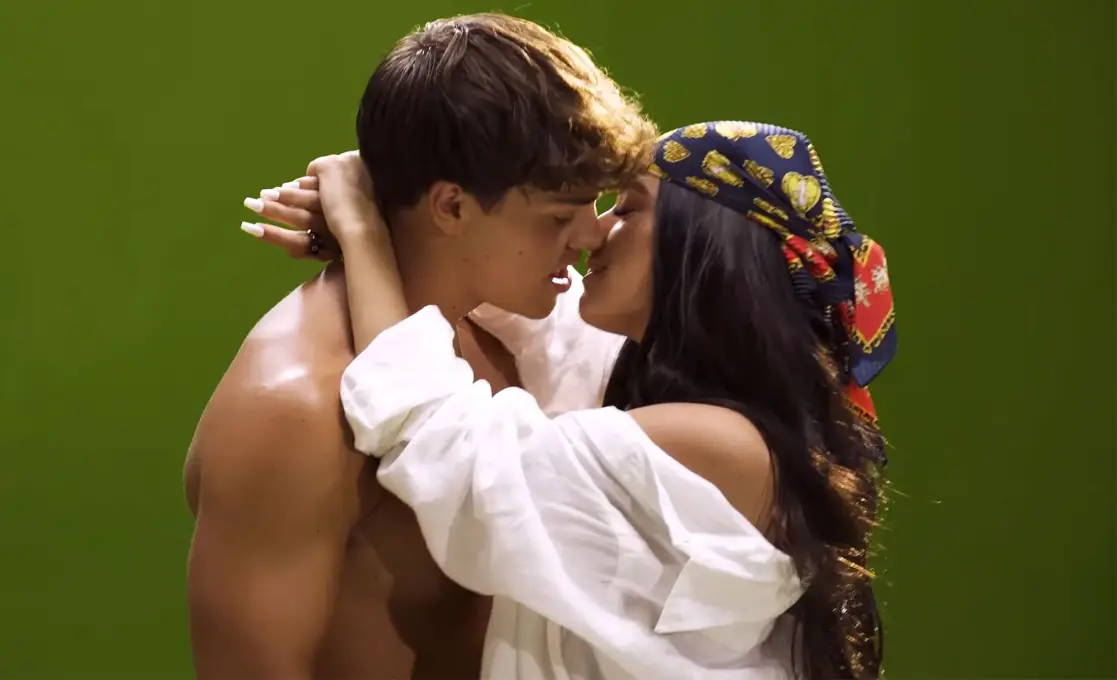 The next month, D'Amelio approached Beck about appearing in the music video for the "Be Happy" remix. Ultimately, D'Amelio said she went with Beck because it was easier to film with a familiar face.
"I'm a very awkward person and I had to do the scene up close and personal with a boy and I picked him because I'm friends with him and I just thought it would be easier than some random boy because I would definitely not be able to do that … I'm glad I did it with him," D'Amelio said on an episode of her podcast 2 Chix.
September 2020: People on social media say that Dixie D'Amelio and Noah Beck are dating.
As they shared photos on social media together and even cuddled up in the photo booth at a friend's birthday party in September 2020, D'Amelio and Beck fueled romance rumors. They once went to the beach together, when D'Amelio useful to find from Beck to cross the water.
January 2021: A private connection was important to Dixie D'Amelio, and Noah Beck explains why.
In January of 2021, Beck discussed his relationship with D'Amelio with PEOPLE, revealing their secretive beginnings and explaining their decision to wait before going public.
"She previously got out of a public relationship, so she didn't want to be as public in this one, just because of previous experiences. We wanted to keep everything between us and we decided it would be better if we didn't post as much," he shared.
Beck also discussed the couple's wish to maintain a regular relationship amid the media glare.
"We're just like any other normal teenage couple. Yes, we have a huge spotlight on us, and it gets overwhelming — like these constant comments," he said, adding, "But other than that, we're just two teenagers in love with each other and couldn't be happier."
August 12, 2021: For Dixie D'Amelio's 20th birthday, Noah Beck writes a heartfelt note.
Beck shared some previously unseen images of the pair to celebrate D'Amelio's 20th birthday and wrote a touching statement to encourage others to share in the celebration.
"Hbd to the girl that makes my world go round<3 everyone go wish her a happy bday!!" Beck shared.
February 2022: Noah Beck elaborates on the reason for the couple's social media silence.
Beck and D'Amelio's followers noticed that in the months following their first anniversary, the couple seemed to take a break from publicly discussing their romance. Some of their admirers speculated that they had broken up, but in February 2022, Beck revealed to E! News that the couple's decision to keep their relationship under wraps had really made them closer than ever.
"I've been telling a lot of people we're kind of keeping things offline. And since we've been doing so, it's been good. It's been kind of like a weight off the shoulder in a way. We kind of just enjoy time together rather than, like, seeming like we do it for our fans, in a sense. We're doing it for each other and that's what it's all about," he said.
August 2022: To celebrate Dixie D'Amelio's birthday, Noah Beck opens out about how he had to skip the celebration.
D'Amelio took a trip to Las Vegas to celebrate turning 21, but her boyfriend Beck did not come along. This fueled rumors that the couple had split up.
Beck addressed the rumors on Twitter on August 11th, 2022: "regarding Dixie's birthday party, work has held me back from attending the fun in vegas," he said. "a lot of the work that is done behind the scenes, the stuff that makes all this other stuff possible. as consumers of our content, please stop assuming the worst between us. we are both very hardworking and we understand that with being or striving for success, comes a lot of sacrifice."
you guys know i have endless love for those who support me. that being said, if u are on this journey w me, pls read pic.twitter.com/ZZb3bcwfpw

— Noah Beck (@noahbeck) August 11, 2022
Beck went on to say, "we need the help of people who support/love us to bring us up and not down."
Later that day, he tweeted again, writing, "it's almost her day… make her feel the love she deserves," along with heart hands emoji.