Over the past few years, many social media platforms have had their ups and downs, but Instagram kept going strong. It is popular among all age groups, with Millenials and Gen-Z making the majority of Instagram users.
The rise of Instagram also brought a new concept of social media influencers, people who amassed a large following. For then, it was a way to make money on Instagram, and it prompted many other people to aspire to become Instagram influencers.
But, as time has shown over and over again, becoming an influencer and earning that sweet Instagram income can be complicated. Fortunately, one can simplify this process by buying Instagram likes on the FollowersOn website, but there are other things to consider.
So, if you want to know how to make money with Instagram, you are in the right place. This article will teach you how to become an Instagram influencer, explain how Instagram pays money, and show you how to make money online with Instagram. Stay tuned to learn more!
Are People Really Making Money on Instagram?
Instagram has evolved from a photo-sharing social media platform to a place where you can build your personal brand and make money. Instagram marketing has become a popular way for companies to advertise their products or services.
As a result, there are different ways to make money on Instagram. You can use your account to promote these companies or promote your business by sharing info about your products and services.
But how many Instagram followers do you need to make money? You probably think that only accounts with a million followers or more can do it, but the truth is, you can make money on Instagram with 500 followers only.
However, you need to be strategic to achieve this and make money with an Instagram account that doesn't have millions of followers. In other words, learn to use Instagram features that will allow you to grow your brand measurably and sustainably.
How to Make Money on Instagram – Growing Your Instagram Account
Before growing your account, you must choose the best account type for your needs. For example, if you are a business owner with an already established business, you should choose an Instagram business account.
With this type of account, you can access features such as Instagram Shop. Also, if you want to promote your product or service, you will be eligible for sponsored posts and ads only if you have a business account. With a business account, you can also enable Instagram shopping features, allowing you to sell your product directly on Instagram.
However, sticking to a regular creator account is a much better option if you prefer to build your online brand more creatively and less formally. In both cases, there are some things you need to do in order to optimize your account and turn it into a money-making machine.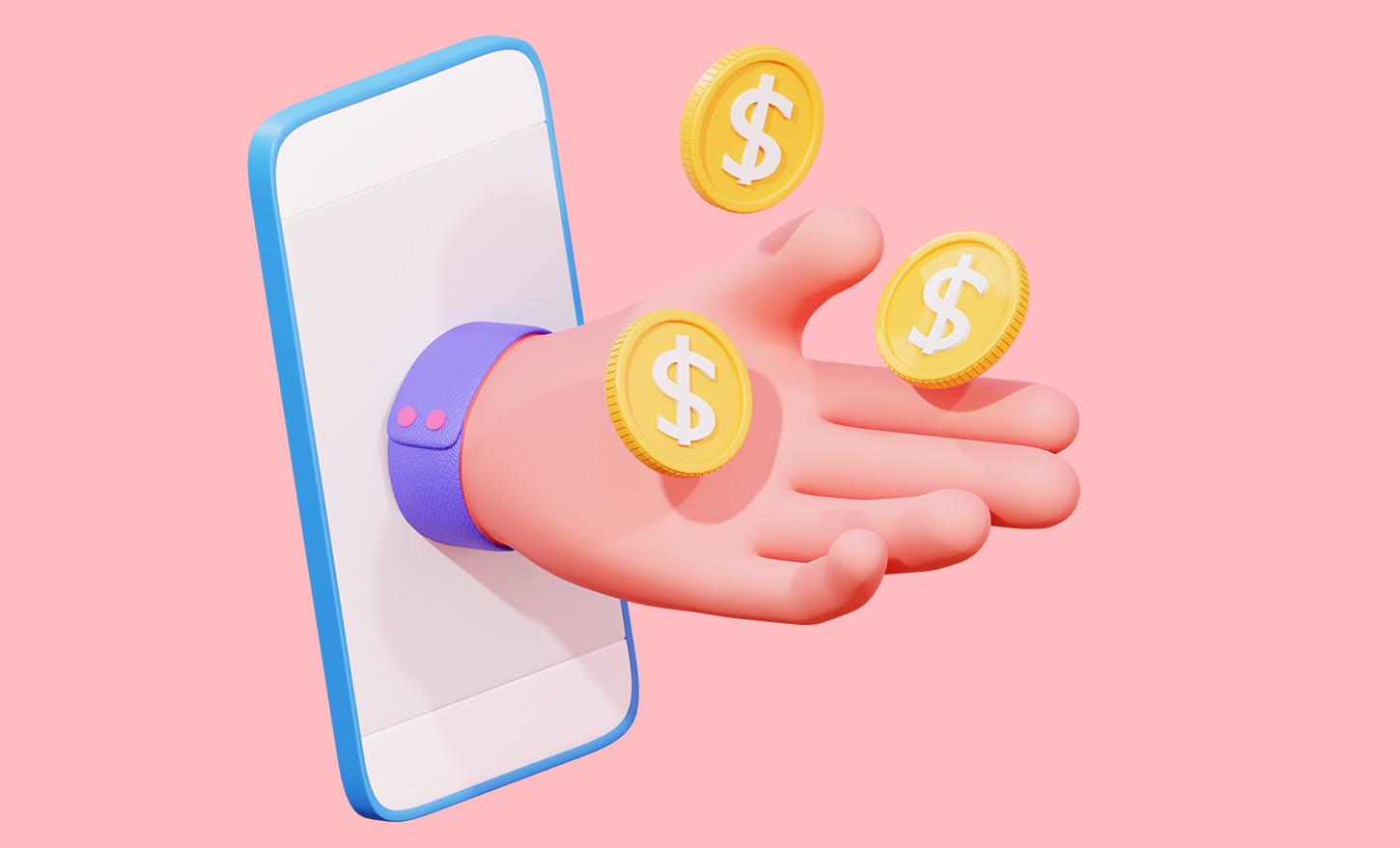 Choose a Niche
If you spread yourself to too many niches, you will never get a chance to establish yourself fully in any of those niches. Instead, choose one or two niches. For example, your account could be about food, travel, makeup, politics, education, or even science.
Or, imagine that you are into fitness. How to make money with fitness on Instagram? You can post pictures of your exercises, share your meal plans, fun facts about different muscle groups, recommend different ways to stay fit, etc. Posting about other things, such as politics or music, will dilute your fitness-related content and make it harder for you to reach your target audience of fitness fans.
The same goes if, for instance, you want to make money with memes on Instagram. Focus on memes instead of posting unrelated content, such as selfies, vacation photos, etc.
Create and Optimize Your Profile
Choose a username that will make you unique and easily searchable. Find a good picture that will make your profile look recognizable and professional. If you have accounts on other social media, use the same profile picture on all of them.
Use your Instagram bio section to introduce yourself and your brand in the most engaging way possible. If you have any relevant links, such as the link to your Etsy shop, your blog, or an affiliate link, you can add one of them to your bio.
Use the highlights feature wisely. Save your old stories into several highlight albums according to their common theme. Try to make specialized covers for each album. These covers should have a similar style but still be different enough to represent different albums.
Post Content Regularly
Obviously, you need to ensure your content is as good as possible. No matter what type of content you post, stories, reels, memes, or photos, it should provide some value to your followers. You will also need to do it regularly.
Don't forget to use hashtags, as they can make your post more visible to your target audience. Research trending hashtags, and try to use them when applicable to your niche. Avoid generic hashtags, such as "nature," "food," etc. Instead, focus on more niche-related yet popular hashtags.
Respond to comments so that you boost the engagement on your post. This will motivate your existing followers to interact with your content in the future while also capturing the attention of possible new followers.
Grow Your Audience
Now it is time to observe your audience. You already know what's their main interest, but you should also take their age, gender, location, and other factors into consideration.
All these differences dictate how your followers perceive and react to your content. The same content won't experience the same success with younger and older people, men and women, etc. Adapt your content to your desired audience so that it resonates with them.
Track the analytics of each post, and try to figure out which posts are the most successful and why. Probably the best marker of success is the number of likes and comments per post. Posts with more likes and comments managed to capture more people's attention. Try to figure out what makes them special and better than other posts.
Network with Other Influencers and Companies
Try to engage with other creators and influencers. Follow them and comment on their posts and Instagram stories. Join groups where other Instagram influencers are active.
If you want to attract the attention of a brand, you can picture yourself using their products. Start with smaller brands because they are more likely to notice you. Of course, the brand should be somehow connected to your content.
Monetize Your Content
The final step is to make money with Instagram posts. There are several ways you can do it. For example, you can try an affiliate marketing program to promote a particular product and get money when your followers buy it.
You can also earn money on sponsored posts, where you get paid for posting about specific products or services. This way, you will get paid for posting whether your followers decide to buy anything.
If you have a product or service of your own, then you can focus on selling them instead of promoting someone else. You can integrate your e-commerce platform with Instagram Shop and sell your products that way.
You can also offer exclusive content for a flat rate or get your followers to subscribe and pay for a membership to access this type of content. Additionally, you can sell your merchandise, webinars, or anything in between.
5 Services That Will Boost Your Instagram Income
If you did everything listed above and you still need to boost your Instagram account, some websites can help with that:
1. FollowersOn
As you can see, you need as many followers and likes to make money on Instagram. That's where FollowersOn can help you. This platform sells genuine likes, comments, views, and followers for Instagram.
For example, once you buy Instagram likes on the FollowersOn website, they will gradually be added to your profile to look organic. They come from real Instagram accounts, making the process even more authentic.
Every type of service has several packages with different numbers of likes, views, or followers. And the prices? They depend on your service and package but are highly affordable and within everyone's budget.
FollowersOn is your biggest ally in growing your Instagram account authentically and sustainably. It is a perfect way to boost your profile so it gets noticed by more people.
2. SocialsGrow
Like FollowersOn, Socialsgrow sells likes, views, comments, and follows from authentic Instagram profiles. No matter your chosen service, it will be gradually added to your account to look natural and organic. Socialsgrow is safe, reliable, and guaranteed to give you the desired results!
3. SocialBoss
SocialBoss is another great place to buy likes, views, comments, and followers. Just like the previously mentioned platforms, SocialBoss is affordable, safe, and reliable for every Instagram account owner who wants a little boost. Here, you will get an authentic stat boost from real Instagram users without logging in!
4. BankSmm
BankSmm is a new platform for buying followers, views, likes, and comments. The user reviews are positive, which makes this place definitely worth checking out!
5. SozialTop
If you want to explore more platforms that sell followers, views, likes, and comments, SozialTop should be your destination. This fast-growing platform is becoming increasingly popular among Instagram influencers.
FAQ
Q: How much money can you make on Instagram?
A: It depends on how big your Instagram account can grow. So, how much you earn with Instagram will depend on the number of followers, and likes on your post, and your business strategy.
Q: How many followers do you need on Instagram to earn money?
A: You need at least 500-1000 followers to be considered a micro-influencer and start scoring brand deals.
Q: How to make money with Instagram ads?
A: Focus on building and growing your follower base – the more followers you have, the more money you can earn from ads.
Q: How to make money with followers on Instagram?
A: You can sell them your products or services or promote products and services from other brands.
Q: How to make money with Instagram theme pages?
A: Enter an affiliate marketing program, sell shoutouts and mentions, offer promotions, or promote your own products and services.
Q: Can you make money with Instagram reels?
A: Yes, Instagram Reels are a great way to make money. For every 1 million views, one can earn anywhere between $25 and $1000.
Conclusion
Earning money from Instagram is certainly alluring, but it is not as simple as it may seem. However, it is not impossible either. So, if you wonder how to make money with an Instagram page, the answer is to grow your account, optimize it, and use platforms like FollowersOn to boost you.
Visit FollowersOn today and explore your options for becoming viral on Instagram. Soon, your follower count and your bank account balance will grow!