American-born Jet Tilakamonkul, better known by his stage name Jet Tila, is a well-known chef, TV personality, author, and expert on the history of food. He is from a mixed-race family of Thai-Chinese ancestry, which has contributed to Tila's distinction as a chef in the nation. The Best Thing I Ever Ate, Chopped, Cutthroat Kitchen, and Guy's Grocery Games are just a few of the prominent TV programs in which the culinary guru has appeared. He frequently appears on Food Network, the main cable channel in America.
The celebrity chef was given the privilege of representing Thai food in Los Angeles as the Royal Thai Consulate-General's culinary ambassador. To date, Tila has written four original cookbooks. These include Master of Ramen: The Ultimate Guide, 101 Epic Dishes: Recipes That Teach You How to Make the Classics Even More Delicious, 101 Asian Dishes You Need to Cook Before You Die, and 101 Thai Dishes.
Jet Tila World Records
Jet Tila creates 5 culinary world records. The claim that Jet Tila holds culinary world records is frequently made in the introductions to Food Network programs like Tournament of Champions and Guy's Grocery Games, although it is rarely explored further. What exactly does Jet have world records in? Unexpectedly, there aren't any Thai meals on this list!
Longest California Roll (504 ft / 153.619 m)
Longest Granola Bar (420 ft / 128.016 m)
Largest Seafood Stew (6656 lbs / 3019.111 kg)
Largest Fruit Salad (15,291 lbs / 6935.881 kg)
Largest Stir Fry (4,010 lbs / 1818.905 kg)
Take a look at the below tweet about Jet Tila 5 World Records:-
Longest California Roll 504 ft, granola bar 420 feet, seafood stew 6656 lbs, fruit salad 15,291 lbs & stir fry 4010 lbs. https://t.co/9bUyXy7zzq pic.twitter.com/hbfPj42x55

— Jet Tila (@jettila) March 24, 2022
World's Longest California Roll
With the aid of more than 300 Purchase College students from New York, Jet broke the record in 2017. They needed about 500 cups of vinegared rice, 800 sheets of nori, 125 avocados, 200 pounds of surimi, and an undetermined amount of fish paste to make their rainbow-coloured giant maki.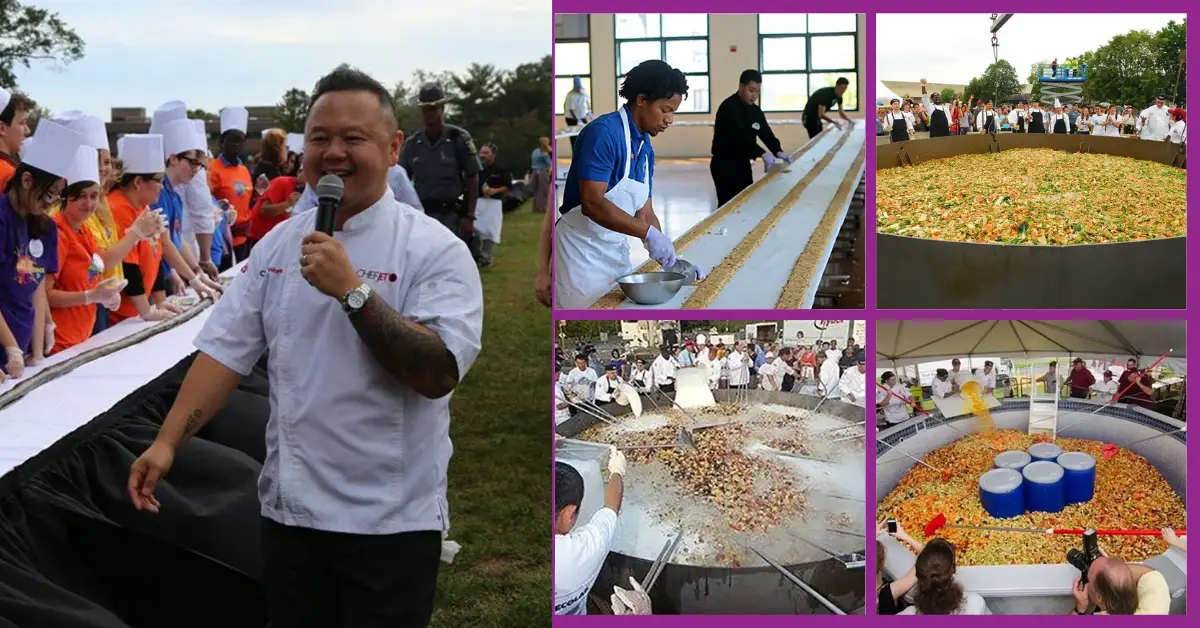 Jet came up with the idea to attempt the world record while working with children to roll a 50-foot California roll the year before. All of the volunteers and students were dressed in white chef's caps and colourful t-shirts bearing the slogan "Chef Jet Rolls Purchase." UMass Amherst held the previous record with a 422-foot California roll.
World's Longest Granola Bar
The world's largest granola bar, which was 420 feet long, was another accomplishment achieved in partnership between Jet Tila and volunteer college students. 2015 saw the record set by UC Santa Cruz and Jet. About 50 pounds of oatmeal, 20 pounds of diced almonds, 15 pounds of peanuts, 60 pounds of brown sugar, and more than 20 pounds of dried cranberries and golden raisins were used to make the giant granola bar. Due to its no-bake technique of preparation, the bar had a texture akin to brownie or cookie dough and tasted sweet with a peanut butter flavour.
World's Largest Seafood Stew
Together, UMass Amherst and Jet have previously broken world records. This time, they made the largest seafood stew in the world, weighing a whopping 6,656 pounds, in a one-ton, 14-foot frying pan.
The stew used approximately 145 pounds of bacon, 1,000 pounds of seafood (including mussels, lobster, clams, haddock and salmon), 1,137 pounds of potatoes, 72 pounds of butter, 862 pounds of chicken stock, 72 pounds of flour, 287 pounds of carrots, 575 pounds of onions, 144 pounds of corn, 288 pounds of celery, 72 pounds of turnips, 72 pounds of parsnips, 1,725 pounds of half and half, with one pound each of oyster sauce along with a massive salt/pepper/seasoning mix.
You may also be interested in reading about the Boyfriends of Miranda Cosgrove and Xandra Pohl:
World's Largest Fruit Salad
UMass Amherst and Jet Tila currently hold the record for the largest fruit salad in the world with over 500 participants and 15,291 pounds of fruit. The platform, which was created by the civil engineering department to withstand the weight of the pool, has four tractor-trailer scales situated at its corners.
The salad was made with 20 different apple varieties, 5 different banana varieties, 14 different berry varieties, 3 different current varieties, 4 different cherry varieties, 3 different mint varieties, 3 different grapefruit varieties, 10 different grape varieties, 3 different mango varieties, 19 different melon varieties, 3 different papaya varieties, 13 different peach varieties, 12 different pears, 2 pineapple varieties, 9 different plum varieties, 3 different kiwi fruit varieties, 15 other fruits, and 500 pounds of orange juice.
World's Largest Stir Fry
UMass Amherst and Jet Tila broke yet another record in 2011, this time! The world's largest seafood stew was prepared in the same one-ton wok that was used to prepare the largest stir fry ever.
The volunteers chopped a lot of veggies, including 208 pounds of bok choy, 535 pounds of yellow onions, 216 pounds of peppers, and 464 pounds of carrots. They also minced 50 pounds of garlic and a small amount of poultry.
If you are interested in reading more news, you can go to our website, thetecheducation.com, where you will find all the most recent information. You can also leave your thoughts in the comment box, and don't forget to add this website to your list of bookmarks.