Have you found your old hard drive and want to recover data from it? Getting files off an old hard drive can be challenging and quite difficult. Unfortunately, it is not possible to get files from your hard drive directly by connecting them to your computer due to varying hardware architecture. But don't panic; it doesn't mean that recovering files from an old drive is impossible.
Here, in this article, we will help you to know how to get files off an Old hard drive without having any data loss. So, go with these methods and get your deleted files back!
Is it Safe to Connect Old Hard Drive to PC?
Yes, it is generally safe to connect your old hard drive to any PC. But sometimes, it can be risky too as your drive may contain malware/virus that can affect the connected device. You can connect your hard drive using a USB cable. Once connected, you can transfer files from your old drive to the connected PC just like transferring files from any external drive.
If you are connecting your hard drive via a USB cable, ensure no read/write actions are enabled and the drive is free from viruses/malware. Once you are able to access the drive, you can copy-paste or transfer the data from the old drive to another storage drive.
How do I Recover Files from an Old Hard Drive?
Before beginning with any method to get files off an Old hard drive, try connecting your hard drive to your PC. You can go through the following steps to recover files from the old hard drive by connecting it to a USB cable:
If required, connect the hard drive to a USB port using an adapter.
Wait for a few seconds till Windows identifies the hard drive.
Now, you will get a notification on your screen asking what you want to recover from the hard drive. Select Open folder to view files.
However, if the above methods anyhow fail to recover files off a hard drive, you can use backup or any professional data recovery software to restore your deleted files. Now, check each of these methods in detail.
Method 01: Recover Data from Old Hard Drive Using Backup
Many people create backups of important data files stored on their hard drive on an external or cloud storage drive. If you have created a backup on either of them, you can use it to restore deleted files. It is advised to create multiple backups of your important data.
So, if any data loss situation occurs, you can restore all your files, folders, documents, etc. easily from it. You only need to connect the backup drive to your PC using a SATA/PATA cable or USB adapter cable. You can even directly copy-paste or transfer data to any storage drive. If you have backed up your data on the cloud, you can restore deleted data from cloud storage.
Method 02: Recover Files from Old Hard Drive using Data Recovery Tool
When everything else fails, and you are unable to access files from your Old hard drive, you can use professional data recovery software to restore your deleted files. Among several data recovery programs, the Stellar Data Recovery Professional tool allows you to recover files from old hard drives or SD cards in just a few simple clicks.
One of the main key features of this data recovery software is that it supports the recovery of 1000+ file formats. So, whether you have stored your precious photos, videos, or any important office documents, the Stellar Data Recovery Professional tool will help you to get them back without any hassle. Some other key features that make this professional data recovery software best for your data loss issues are:
Recover data from various storage devices, including internal or external hard drives, SD cards, and USB drives.
Supports recovery of data deleted due to any reasons, such as accidental deletion, formatting, or lost partition.
Even supports the recovery of data from dead storage drives or crashed Windows systems.
Now, it's time to check the detailed step-by-step procedure to know how to get files off an old hard drive using the Stellar data recovery tool:
Download and install Stellar Data Recovery Professional software on your device. Connect your old drive from where you need to recover data.
Launch the application, select the type of files you need to recover from its home screen, and click "Next".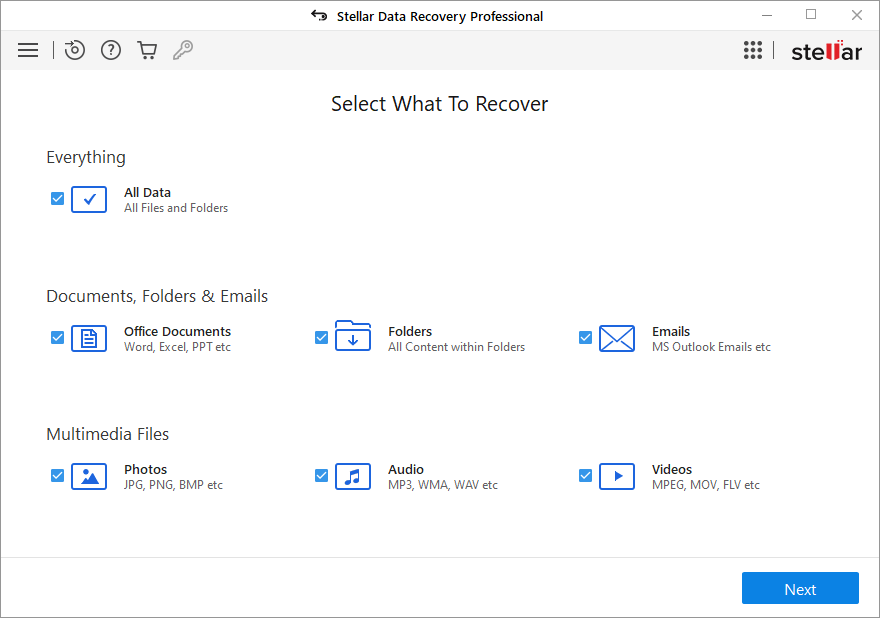 Now, select the drive, volume, or storage location from where you need to restore deleted files and click "Scan".
Once the scanning process gets completed, click the Recover button to save recovered data at the desired location.
That's it! After successful completion of the above steps, your selected files will be restored automatically to the selected location.
Conclusion
Recovering data from old hard drives can often sometimes become quite difficult, especially if you have not used it for several years. But, if you have a hard drive backup, you can easily restore your files.
Even you can connect your old hard drives to a Windows PC via a USB cable and get data off an old hard drive.
And, if nothing works to recover lost data from an old hard drive, simply install the Stellar data recovery professional tool on your computer.