Most of what we know about Grand Theft Auto (GTA) 6 right now comes from leaked footage. In September 2022, about 90 videos of the game being made were leaked online after someone broke into Rockstar Games' network.
Even though the game will officially be shown in a trailer in early December this year, these leaks have already revealed some cool details about the next Grand Theft Auto game.
In this article, we're going to talk about five big things we learned from the GTA 6 leaked footage. But remember, anything we saw in the leaks might change or not be in the final game.
Gta 6 Release date
Rockstar Games announced Grand Theft Auto 6 in February 2022, praising the "unprecedented longevity of GTA 5." The release date of GTA 6 has not yet been officially announced.
However, the wishes of the faithful have been granted. The first trailer for Grand Theft Auto 6 will be released in early December, Rockstar Games said on November 8.
We are very excited to let you know that in early December, we will release the first trailer for the next Grand Theft Auto. We look forward to many more years of sharing these experiences with all of you.

Thank you,
Sam Houser

— Rockstar Games (@RockstarGames) November 8, 2023
Take a look at given related feeds below:
Possible Automobile Theft Mechanic Change
In Grand Theft Auto games, taking cars is a basic thing you can do. You just go up to a car and press a button to get in, even if someone is already in it. But in Grand Theft Auto 6, this might be a bit different.
In one of the leaked videos, we saw something called an Immobilizer Bypass being added to the main character's stuff. This might be needed to steal cars, which means taking cars in the new game could be harder. Also, some things that happen in the game show that trying to steal a car might not always work.
Complex Animations of the Characters
Video games feel more real when the characters move in detailed ways. Rockstar Games, the company that makes these games, has been working hard to make their games look as real as possible. A good example is Red Dead Redemption 2 from 2018. Grand Theft Auto 5 already does this pretty well, but the next game, GTA 6, might do it even better.
The leaked videos of GTA 6 show really detailed ways the characters move, even for simple actions. For example, players might be able to have their character carry a rifle on their back, and it won't just disappear when they switch to another weapon. Also, when characters are being shot at in the game, they seem to cover their faces to protect themselves.
Multiple Explorable Interiors
The 157 room count in the game's debug code was one of the details revealed by the GTA 6 leak. This suggests that the future Grand Theft Auto game might improve upon the accessibility of Grand Theft Auto 5 by including multiple playable interiors.
As a matter of fact, there are hardly any explorable structures in Rockstar Games' 2013 edition. This is somewhat remedied in the game's online mode, which receives a new Grand Theft Auto Online update every Thursday and features additional real estate that can be purchased.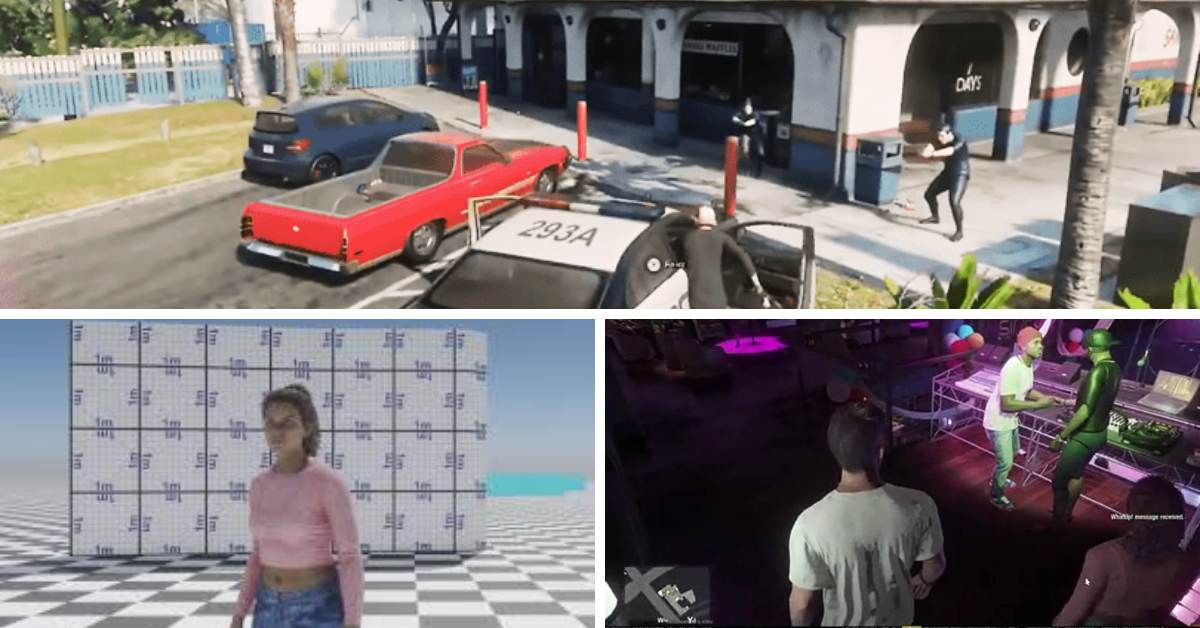 Settings
Among the many cities featured in the Grand Theft Auto series, Liberty City, Los Santos, and Vice City stand out as some of the most memorable. After GTA Vice City Stories was released in 2006, the original two games made their way back to the HD universe. Still, the leaking footage strongly indicated that Vice City will be the location of the sequel.
Like the HD Universe versions of Liberty City and Los Santos, it may look considerably different from its prior form. In addition to Vice City, the GTA 6 leaks hinted at other, maybe Florida-inspired locales.
Lead Characters
The protagonists of the Grand Theft Auto games are among the most recognizable in the video game industry. Video games' protagonists are perhaps the most crucial parts of the experience, and Grand Theft Auto 6 may really have two. According to rumors, Jason and Lucia will play the male and female lead roles in the sequel.
While not much is known about either character at the moment, the GTA 6 trailer scheduled for release in December 2023 may shed some light on their characteristics.