Emily Miller's Tiktok about being single over the weekend seems to confirm that she and her "too hot to handle" boyfriend Cam Holmes have broken up.
28-year-old Emily and her boyfriend, who is 25, were a fan-favorite couple on Season 2 of the Netflix show, and they had been together for over a year. This made fans even more shocked when they heard that they had broken up.
Emily posted a sad-looking Tiktok with the caption, "me realising I'm single AF." This made people think that they had broken up.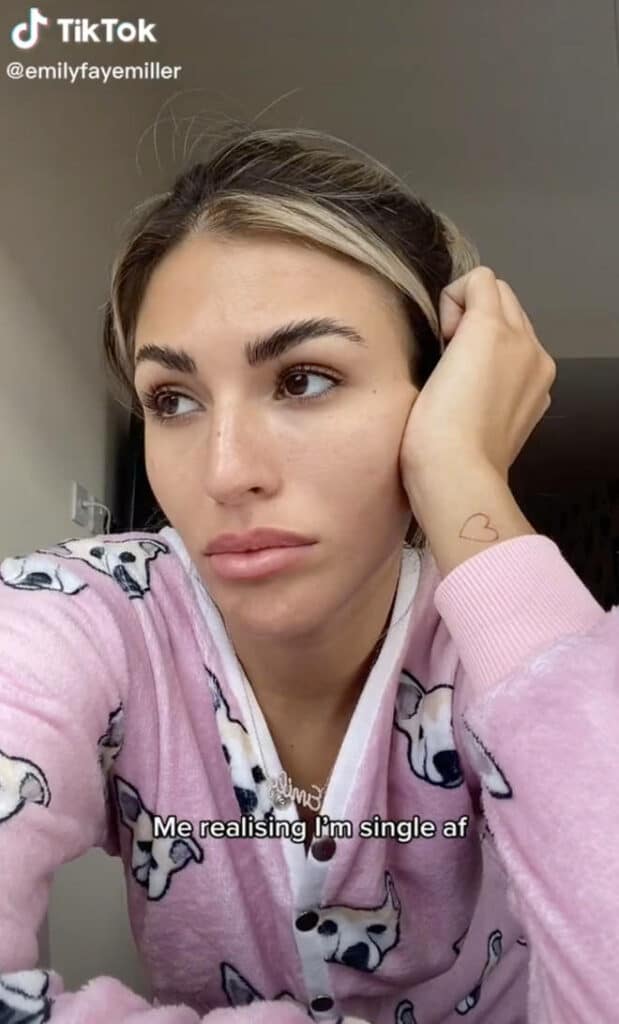 She quickly got over it, though, and started dancing along with the caption, "me realising it's going to be a hot girl summer."
Fans were shocked and sad when they read in the comments that Emily and Cam had broken up.
One shocked fan wrote, "ain't no way," and another asked if it was a joke, adding, "This is a little late for an April Fool's joke."
"There ain't no way you and Cam aren't together, girl," wrote a third person. Season 1 contestant Harry Jowsey even jumped into the comments to say "OMG" with shocked emojis.
Others pointed out that Cam had shared an adorable birthday post for Emily just a few days before. In it, he posted a montage of clips of them together and wrote, "My [heart Emoji] Happy Birthday X."
This comes after Mail Online said Cam cheated on Emily while she was on vacation in Thailand in March, and after it was said that Emily caught him in bed with another woman soon after he got back home.
The publication was told by someone close to Cam: "We are shocked by Cam's actions." We really thought he wouldn't cheat on Emily, but their relationship has been up and down and very stressful because of the pressure from the public and the nature of the show.
"We knew Cam was cheating on Emily, but as his friends, we didn't want to tell him because we thought it would be awkward. However, if you are stupid enough to cheat on your girlfriend, you must accept responsibility and apologize.
"Cam's actions will disappoint a lot of fans, and we can only hope that he learns from this."
Read More
Be Entertained and informed with the latest news at techeducation.com! From the hottest trends to the most breaking news. And Also, Follow us on social media: Facebook, Pinterest, Twitter, and Linkedin. And be part of the movement! Share your thoughts, ideas, and opinions with us.