Every moment counts in project management. Everyone wants to be on top of tasks, deadlines, and resources is a delicate balancing act. The demand for streamlined workflows has given rise to innovative tools. These tools are undoubtedly catering to the unique needs of project managers. One such innovation is the Mobile Pixels Trio laptop screen extender.
If you are a manager who deals with critical projects, juggling multiple tasks, collaborating with a diverse team, and monitoring budgets and timelines, then you have a solution. The stakes are high, and the margin for error is slim. This is where laptop screen extenders step in. It is transforming your work setup into a dynamic command center. Read this article to learn how efficiently these extenders are efficiently assisting project management.
Benefits of Laptop Screen Extenders in Project Management
Here are some of the benefits of laptop screen extenders in project management:
Multitasking Bliss
Multitasking is a skill that can make or break the success of a project. The days of constantly toggling between multiple tabs and applications are long gone. Thanks to Trio laptop screen extenders, project managers now have the power to keep all essential tools and data at their fingertips effortlessly.
Having your project management software, charts, communication tools, and email clients all open and visible simultaneously across multiple screens is essential. This newfound ability to seamlessly multitask is nothing short of a game-changer. It accelerates decision-making and visibly enhances productivity in a once unattainable way.
Real-Time Collaboration
Effective project management is anchored in real-time collaboration. It's about keeping your finger on the pulse of your team's progress. You can instantly address issues and show a sense of unity among team members. No matter where they are in the world, they are connected and united. This is where laptop screen extenders genuinely shine.
Laptop screen extenders enable you to keep project communication tools or any collaboration platform open and visible. Instant messaging, file sharing, and even quick impromptu meetings are just a glance away. Do you know what will be the outcome? A more connected, agile, and responsive team.
Visualizing Data
Project data is the lifeblood of effective project management. Whether it's budgets, timelines, or resource allocation, it doesn't matter. A clear and concise understanding of your project's vital statistics is non-negotiable. An extended screen real estate serves as a canvas. You can create visual dashboards that breathe life into your project data.
Imagine having budget vs. actuals, project timelines, and resource allocation charts displayed simultaneously on your extended screens. This not only makes project data more digestible but also empowers you. You can easily spot trends, red flags, and opportunities. No more scrolling through endless spreadsheets or flipping between different data visualization tools. With laptop screen extenders, you have a comprehensive view of your project's health right before your eyes.
Visual dashboards will make your life as a project manager easier. It also facilitates transparent reporting to stakeholders. With the ability to display critical project metrics in an easily understandable format, you can quickly convey the status of your project. It helps gain the confidence and trust of those holding the purse strings.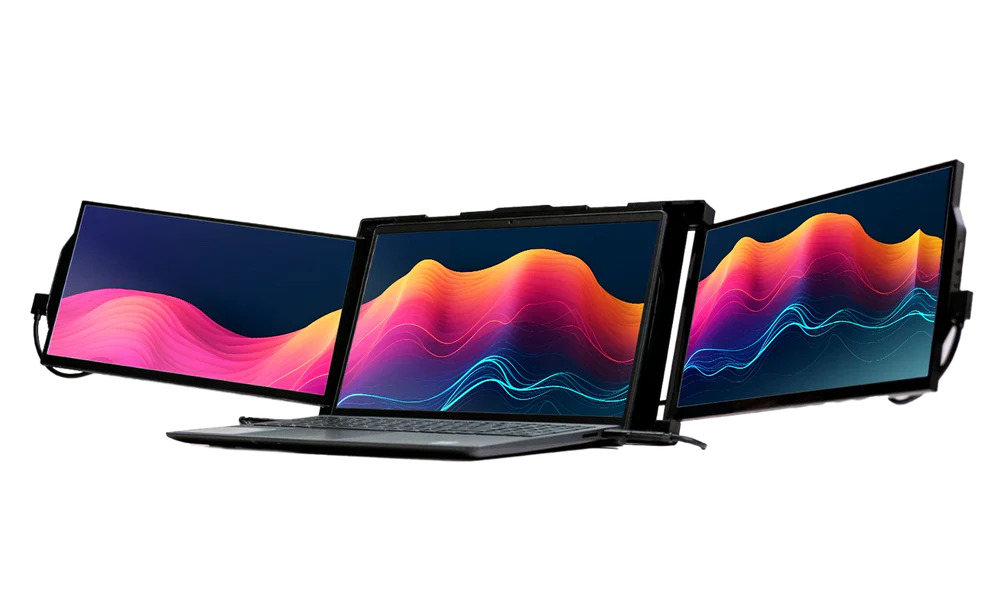 Enhanced Focus and Reduced Distractions
Time is a precious commodity. Distractions and the need to switch contexts can result in significant mistakes and deadlines slipping through the cracks. A laptop screen extender comes to the rescue by assisting project managers to remain laser-focused on their tasks.
By allocating a dedicated screen for your project management software and its associated tools, you can immerse yourself in your work without the constant lure of unrelated applications or disruptive notifications on your primary screen. This exclusive workspace cultivates an environment of heightened concentration, substantially lifting your overall productivity.
Effortless Document Management
In the domain of project management, the management of documents is an everyday necessity. It starts from project plans and reports to contracts and project-related paperwork. A laptop screen extender introduces a degree of convenience. It allows multiple documents to be simultaneously accessible and visible. This means you can analyze project documents alongside one another and draw comparisons between various versions. This upholds uniformity across diverse files, all without the need for repeated opening and closing. Its streamlined approach to document management conserves time and diminishes the chances of mistakes.
Seamless Virtual Meetings
Virtual meetings have become the standard practice in this digital age. Expanded screen capacity with a laptop screen extender creates an optimal arrangement for virtual meetings. It permits you and your team to maintain the visibility of video conferencing utilities.
You can easily do the meeting agendas and pertinent documents while actively participating in discussions. This setup facilitates easy referencing of project specifics.
It can provide seamless screen sharing, enhancing the productivity and engagement of all meeting participants.
Enhanced Decision-Making
The need for quick and precise decision-making is essential in project management. A laptop screen extender ensures that vital data and decision-making tools remain in view. This capability bestows the authority to formulate well-informed decisions in real-time. It enhances the domains like resource distribution, hazard evaluation, and project modifications.
The capacity to swiftly access critical information can often mean the distinction between capitalizing on an opportunity. It prevents the chances of falling short of meeting a crucial deadline.
Consequently, it empowers project managers to steer projects. With the help of laptop screen extenders, you can do these tasks with confidence and agility in a rapidly evolving landscape.
Time is money, and efficiency is highly vital nowadays. Laptop screen extenders offer project managers a lifeline. Now, you can easily tackle complex projects with confidence. Laptop screen extenders provide an expansive canvas for multitasking and facilitating real-time collaboration. It enables data visualization to manage projects efficiently.
So, if you're a project manager looking to elevate your game, consider making Trio laptop screen extenders your secret weapon. Make a better future of project management and unlock a world of possibilities right at your fingertips. Your projects, your team, and your stakeholders will thank you for it.