Darius Rucker's money journey has had its ups and downs. He made a big splash in the music world during the 90s with his band Hootie & the Blowfish, hitting it big with their music. But when their later albums didn't do as well, Rucker stepped away from the spotlight.
Then, in the late 2000s, Rucker started performing country music on his own, which brought him back into the limelight. He's been doing well with his new music style, which makes us curious about how much money he's saved up from his singing career!
In short, Darius Rucker's net worth and his career have had their share of highs and lows, but his switch to country music has brought him back on a successful track.
Darius Rucker's Net Worth
Darius Rucker is a musician from the United States. In October 2023, Darius Rucker had a net worth of $12 million. He first got noticed playing guitar and singing in the rock band Hootie & the Blowfish.
Later on, he went solo and did really well, even snagging a New Artist Award from a big country music group. Besides his tunes, Darius is also recognized for helping others and standing up for the causes he believes in.
You can find every detail about Darius via his Instagram profile:
View this post on Instagram
Darius Rucker's Early Life and Childhood
Darius Carlos Rucker, born on May 13, 1966, in Charleston, South Carolina, grew up with five brothers and sisters. They were raised by their mom, who was a nurse because their dad wasn't around much. His dad was in a Gospel band.
Although they didn't have a lot of money and went to church a lot, Darius enjoyed his childhood. He always dreamed of being a professional singer from a young age.
How Did Darius Rucker Get Famous?
Darius Rucker became famous as the leader and main singer of the band Hootie & the Blowfish. Their first album in 1994, Cracked Rear View, was a big hit, selling over 10 million copies in the US and becoming the top-selling album of 1995 with popular songs like "Time," "Only Wanna Be With You," and "Hold My Hand."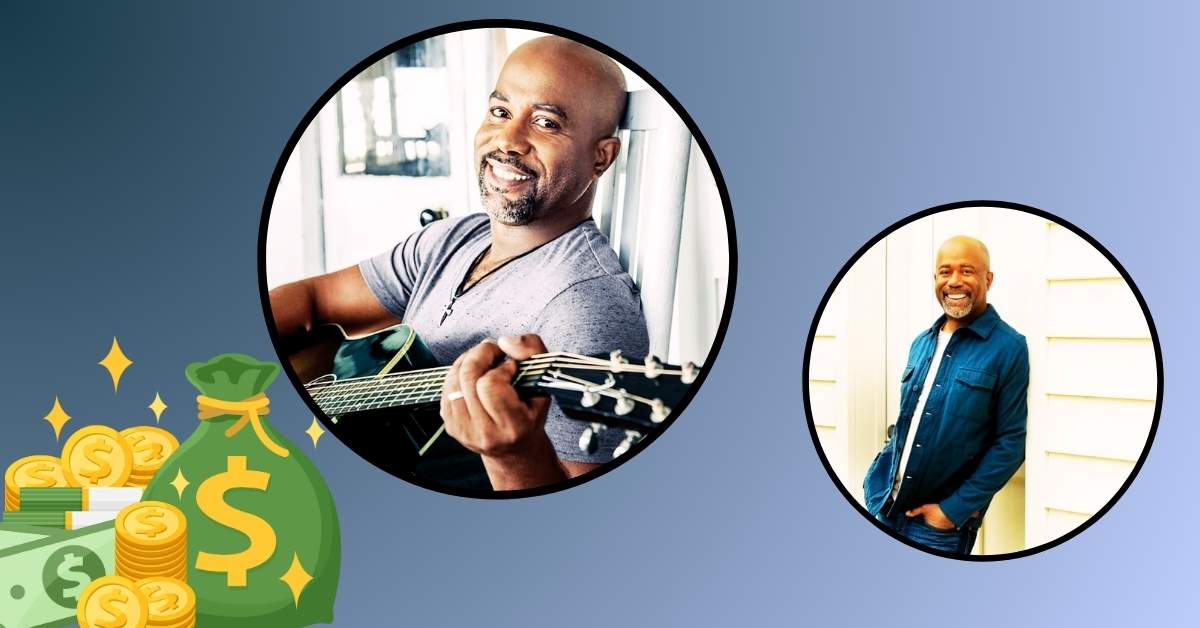 However, their later albums didn't do as well, and the band faded from the spotlight. Rucker then started his own solo music career in 2001 with an R&B album. In 2008, he switched to country music and signed with Capitol Records Nashville.
His country song "Don't Think I Don't Think About It" reached No. 1 on the country music chart, marking a successful comeback for him. This achievement also made him the first Black musician to have a top country song since Charley Pride's song in 1983.
Darius Rucker's Music and Awards
Darius Rucker kicked off his music career when he was studying at the University of South Carolina by forming a band. In this band, he was the main singer and also played the guitar. People got to know him more through this band. He made five albums and even hit the top spot on the Billboard Hot 100 chart.
In 2002, he released his first solo album called "Back to Then," which people really liked. This album was released under the Hidden Beach Recordings label. Over time, he worked with other labels like Atlantic and Capitol Nashville too. His song "Don't Think I Don't Think About It" got him more fame as it topped the Hot Country Songs chart.
In 2013, he released another album "True Believers," which did really well and got to number two on the US Billboard 200 chart. Besides making music, Darius Rucker got a lot of nominations and won some awards too. He won two Grammy Awards in 1995 for Best New Artist and Best Pop Performance by a Duo or Group with Vocal.
In 2009, he won some Country Music Association Awards. In 2018, he was honored with an award from the Academy of Country Music for his contributions to the music world. Overall, he's had a successful music journey and got quite a bit of recognition for his hard work.
Darius Rucker's Personal Life and Family
Nicole Pearl Phillips, Rucker's first child, was born to his lover Elizabeth Ann Phillips in 1995. He married Beth Leonard in 2000 and had two children with her: Danielle Rose and Jack. He and his wife split up in 2020.
How Many Grammys Awards Does Darius Rucker Have?
It's true that Darius Rucker has three Grammys; he won two with the band Hootie & the Blowfish and one by himself. In his career, he has been nominated for three Grammys, so it looks like he has won all three!
With our in-depth analysis of these renowned individuals' net worth, you can uncover the stars' financial information:
Darius Rucker Age
On May 13, 1966, Darius Rucker came into the world. 57 years old as of the time of this writing.
Conclusion
After being a successful lead singer in the band Hootie & the Blowfish, Darius Rucker became a great country artist on his own. He became famous with the band's hit record "Cracked Rear View" in 1994. He is now worth $12 million.
He also made history by becoming the first Black country act in decades to reach the top of the charts. Besides his music, he is known for the good things he does for others, like giving veterans homes and helping education programs in South Carolina.
Thank you so much for being interested in our website! You can find more information about this topic at Thetecheducation.