Ashley Olsen's huge net worth shows that she is the main provider for her new family with Louis Eisner.
Mary-Kate and Ashley were two of the most well-known twins in the world when they were young. To the surprise of their fans, they are now all grown up and living together. The 36-year-old fashion mogul recently married the artist she has been dating for a long time.
Page Six said that the couple got married on December 28 at a house in Bel-Air. Olsen and Eisner started dating in 2017 and have kept their relationship very private, so it's not surprising that they kept their wedding a secret.
Let's find out how much Ashley Olsen makes money.
Ashley Olsen: Net Worth
Ashley Olsen has a net worth of about $250 million. Olsen has been in the public eye since she was nine months old when she was put on the TV show Full House. People say that the twins' pay started at $2,400 per episode and went up to $25,000 per episode before reaching $80,000.
The twins then got into acting and were in some of the best comedies of all time, like It Takes Two and Double, Double, Toil, and Trouble.
In 2006, they started their own brand called The Row in order to find a new way to make a living in fashion. Business of Fashion says that the successful fashion house makes more than $100 million every year.
The twins also own the successful clothing lines Olsenboye, StyleMint, and Elizabeth and James. The latter makes an estimated $89 million per year. Cosmopolitan says that the sisters ran a whole retail empire with their Dualstar Entertainment Group, which sold $1 billion of goods online and at Walmart annually.
Back in 2007, Forbes put the twins as the 11th richest women in entertainment. At the time, it was thought that they were worth $100 million altogether.
Ashley has a huge amount of money from acting, running a business, and making money in the fashion industry. Since Olsen has so much money in the bank, he stays out of the public eye. In 2012, the twins said they would stop acting so they could focus on their fashion businesses.
Ashley Olsen: Career Details
Ashley, along with her sister Mary-Kate, started acting when she was nine months old and was cast as Michelle Tanner on "Full House." Mary-Kate and Ashley both played the youngest child in the Tanner family. This was a way for the producers to get around laws against hiring children. "Full House" was, of course, a huge success, and its cast members, especially Ashley and Mary-Kate, became big stars.
The twins started to be in their own direct-to-video movies and let their pictures be used on a variety of products, such as clothes and makeup. In the 1990s, Ashley and Mary-Kate started Dualstar Entertainment Group. Through it, they made a number of successful TV movies and movies for home video. Ashley and Mary-Kate have been in a lot of movies together over the years.
"Double, Double, Toil and Trouble," a movie from 1993, "How the West Was Fun," a film from 1994, "It Takes Two," from 1995, 1998's "Billboard Dad," "Passport to Paris," from 1999, "Our Lips Are Sealed" came out in 2000, and "Winning London" and "Holiday in the Sun" came out in 2001. The twins were also on the TV shows "Two of a Kind" from 1998 to 1999 and "So Little Time" from 2001 to 2002.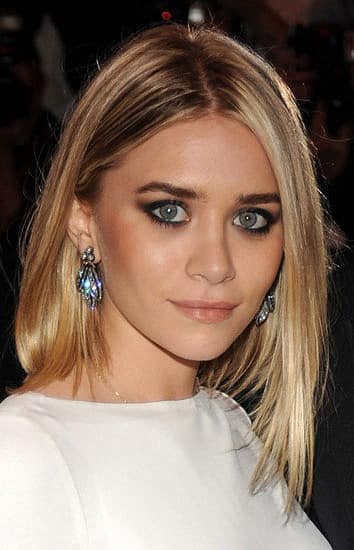 In the late 1990s and early 2000s, the Olsen twins were very popular. The twins were made into dolls by Mattel. They were also in the movies "Getting There" and "When in Rome" in 2002, "The Challenge" in 2003, and "New York Minute" in 2004. The twins also had a small part in "Charlie's Angels: Full Throttle," which came out in 2003. All of this took place a long time before the twins turned 21.
When the twins turned 21 in 2007, they mostly stopped acting. They made it official that if they worked in movies again, they would do so as producers. Ashley was in the film "The Jerk Theory" in 2009 and "I'm Still Here" in 2010. The twins did stop acting in 2012, so they could focus on their fashion brands.
In 2015, John Stamos said that he was working with Netflix to bring back "Full House" as the spin-off "Fuller House" with all of the original cast members. Ashley and Mary-Kate decided not to be in the series about the reunion. Ashley said that she did not feel comfortable in front of the cameras after being away for so long.
Ashley Olsen: Real Estate
Ashley and Mary-Kate paid $7.43 million for a condo at 1 Morton Square with 5,731 square feet and five bedrooms in 2004, but they never moved in. In 2007, they put the unit on the market for $12 million. It took three years for anyone to buy the house. The full-floor penthouse with its own elevator was finally sold for $7.7 million.
Ashley paid $6.75 million for a two-bedroom, two-and-a-half-bathroom apartment in Greenwich Village that took up a whole floor.
Related Stories Recommended By Writer: