In the early 1980s, Seiko introduced numerous watches with computing capabilities. Long before the Apple watch (and other smartwatches), there was the Data-2000 which could store two memos of up to 1000 characters each. Unlike today's devices, data had to be synced between the keyboard and the watch.
The 1990s witnessed a further consolidation of watches and computers – Samsung's SPH-WP10 was the first watch phone. One of the first smartwatches was the Microsoft SPOT introduced in 2004, which received info about news, weather, and stock updates. The Apple Watch was presented by Tim Cook in 2014, initially marketed as a fashion accessory.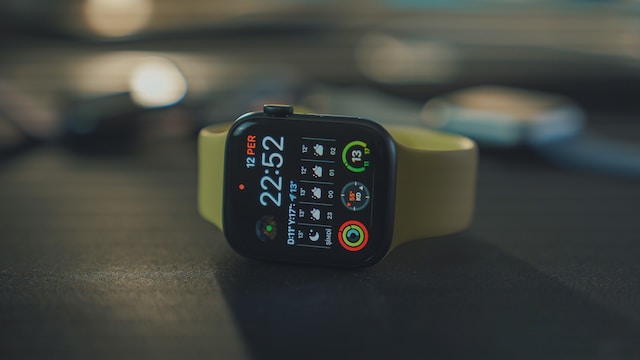 Before You Get a Smartwatch, Make Sure It Includes These Features
As the name suggests, a smartwatch is a little device worn on the wrist. You can operate it through a touchscreen, physical buttons, or a combination of the two. Whether it's intended for daily use or specific purposes, a smartwatch offers an array of distinctive features such as:
Notifications – A smartwatch offers notifications from the phone, so you can receive alerts for incoming calls, messages, and emails. You can choose which apps to send notifications to your smartwatch and how much information is displayed on the screen.
Apps – Some manufacturers include cool functions with default apps, but you can download various apps from the Google Play Store or Apple Store.
Media management – You can control the music using your smartwatch. For example, if you're listening to music, you can use your watch to change songs or turn the volume up/down.
Fitness tracking – Pretty much every smartwatch has fitness-tracking abilities, so you can keep track of your health. For example, you can track your daily step count or monitor your sleep patterns. Using different sensors, the smartwatch can track everything from movement to your heart rate.
GPS – Most smartwatches have built-in GPS, which enables them to track your location or receive location-specific alerts. In the event of an emergency, it can alert authorities about your whereabouts.
NFC payments – Contactless payment has gained tremendous popularity in recent years. To pay with your watch, all you have to do is to hold your watch near the payment terminal. You don't have to find your wallet or get your card out.
Can A Smartwatch Save Your Life?
A smartwatch can't detect life-threatening issues such as heart attacks or strokes, but that doesn't mean it's not a must-have accessory for your well-being. Most smartwatches are equipped with fall detection, meaning that if you fall while wearing the watch, the device senses the motion that occurs after the initial movement.
It's a useful feature because the smartwatch can notify emergency contacts or call for assistance if you've taken a fall or experienced some kind of impact. The Apple Watch is one of the best smartwatches for fall detection. It features an audible alarm, haptic feedback, and a display asking if you're fine.
Earlier this year, a man was saved by his smartwatch after falling from a cliff on his motorcycle, police officers responding to the distress communications. The brand and model of the smartwatch remain unknown. Because motorcycles are smaller than cars, they're more difficult to see by other drivers, which can lead to collisions between cars and motorcycles.
Anyone considering a lawsuit should first and foremost visit https://www.legalexpert.co.uk/motorcycle-accident-claims/ to obtain additional information. Getting back on topic, a smartwatch isn't just for keeping time. Smartwatches have been saving lives for some time now, being critical in several different cases. A Reddit user reported that a smartwatch assisted her wife during a traumatic vehicle accident.
To Use a Smartwatch, You Need a Smartphone
A smartwatch can work without being paired with a smartphone, but it might require a cellular connection or an eSIM card. Examples of features that work on most devices without requiring smartphone connectivity include but aren't limited to activity tracking, setting alarms, and checking the time.
You can pair different types of smartwatches to your Android or iOS phone (or tablet). After having installed the companion app, you can control the settings of the smartwatch and view the fitness data it has gathered. Ensure to keep your smartwatch updated with the latest firmware and software so that it works properly and efficiently. The exact steps may depend on the model of your device, so refer to the manual for guidance.
There's no need to worry because most smartwatches offer a battery life long enough to get you through the day. The average battery life of a modern smartwatch is around 24 to 36 hours, but there are exceptions that offer much better performance. Most manufacturers use Lithium-ion batteries, so they enable charge-discharge cycles without any memory loss.
You can replace the batteries of your device, but attention needs to be paid to the fact that doing so can be challenging. There are several factors that can influence how long a smartwatch battery lasts, such as screen brightness, device use, and background functions. You could turn some features off, but if you switch off the functionality, what's the point of having a smartwatch?
Concluding Thoughts
As the years go by, smartwatches are more feature-packed and attractive. Traditional watches can't compete as far as functionality is concerned, but you'll seldom have to worry your watch will stop ticking.
A smartwatch is considered a smart accessory because it supports your smartphone, offering a ton of cool features. You can connect to your mobile device via Bluetooth or Wi-Fi, so you don't have to get a new phone number. Maybe you're curious to know how you respond to messages. Well, you can reply via Facebook Messenger or by text through dictation. To send an emoji, draw it with your finger on the screen.
All in all, a smartwatch is a wearable computing device that extends the capabilities of your smartphone. Seeing reminders, alerts, or notifications on your watch allows you to leave your phone in another room; you'll never miss anything important. You can ditch your smartphone and use a smartwatch for texting and calling. Nevertheless, the choice of the smartwatch really matters.