The fourth season of the popular HBO series, True Detective is set to take place in Alaska, as confirmed by the recently released first image from the show. The picture showcases Jodie Foster and Kali Reis in full uniform amidst snowy surroundings. Fans of the show have eagerly been anticipating the return of the hit series and are excited to finally see a glimpse of what's in store for them in this new location.
Since its debut in 2014, True Detective, a crime drama anthology, has had a fluctuating trajectory. While Season 1 was highly influential, Season 2 was considered a failure. The last season aired in 2019, featuring Mahershala Ali in the lead role, and marked the end of creator Nic Pizzolatto's contract with HBO, creating ambiguity about the show's future. However, in March 2022, HBO revealed that the show would be making a comeback with a fresh perspective under the guidance of executive producer Barry Jenkins and writer-director Issa López.
True Detective fans can rejoice as Season 4, titled True Detective: Night Country, is on its way. As we eagerly anticipate the show's return, Here's everything we know so far about True Detective Season 4.
True Detective Season 4 Potential Release Date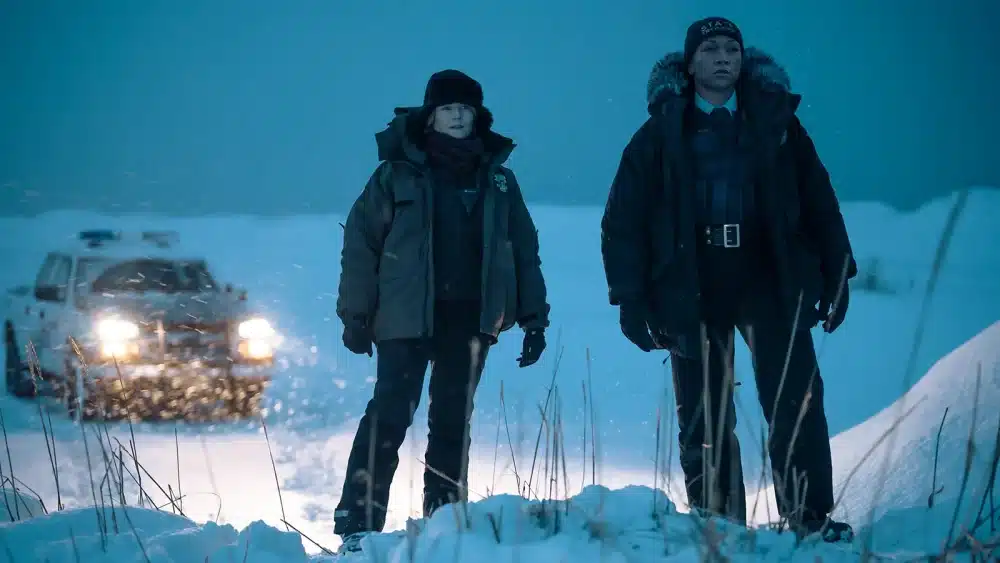 Currently, No release date has been announced, but if production begins in November 2022, we anticipate a late 2023 or early 2024 release. It would be interesting if it came out in January 2024, five years after Season 3.
True Detective Season 4 First Look
HBO unveiled the debut still from the show on February 15 through a tweet. The image showcases Jodie Foster and Kali Reis in the midst of the frigid, barren terrain of Alaska, exuding a tough and daring demeanor. Moreover, HBO announced that the fourth season will be "coming soon."
Meet your new True Detectives.
The darkness of the Arctic falls heavy upon #NightCountry. The new season of the HBO Original #TrueDetective, starring Jodie Foster and Kali Reis, is coming soon. #NightCountryHBO pic.twitter.com/max4kpK15p

— True Detective (@TrueDetective) February 15, 2023
True Detective Season 4 Production Notes
HBO confirmed the commencement of the production of True Detective: Night Country in Iceland, which will serve as a substitute for Alaska, the location of the season. On November 8, HBO shared a photo of a clapper with a blurry background but a discernible hockey rink. The clapper verified that Issa López is the director, as previously speculated, and unveiled Florian Hoffmeister (known for Tár, The Terror) as the director of photography. HBO also previewed the first page of the script on Twitter.
True Detective Season 4 Cast
The cast of True Detective: Night Country is highly impressive, as one would anticipate. The lead role is played by Jodie Foster, a two-time Academy Award winner. Additionally, the ensemble features talented actors from HBO's repertory group and Indigenous performers who are making their debut on the network. Kali Reis, who is second-billed in the cast, is a former professional boxer. She made her cinematic debut in the 2021 thriller Catch the Fair One, which garnered her an Independent Spirit Award nomination for Best Female Lead. According to pressroom.warnermedia.com, Reis is also a motivational speaker and an advocate for the Missing and Murdered Indigenous Women and Girls movement. She teaches Indigenous women how to defend themselves both physically and verbally.
Deadline provides the following Cast list with character descriptions:
Jodie Foster portrays Det. Liz Danvers.
Kali Reis takes on the role of Det. Evangeline Navarro.
John Hawkes plays Hank Prior, a police officer who harbors deep-seated grudges while projecting a calm demeanor.
Christopher Eccleston portrays Ted Corsaro, the Chief of Police for the region who has a longstanding history with Liz Danvers.
Fiona Shaw plays Rose Aguineau, a survivalist with a complex past that includes many secrets.
Finn Bennett takes on the role of Peter Prior, who is Liz Danvers' protégé and apprentice, with results that may be favorable or unfavorable.
Anna Lambe portrays Kayla Malee, a young nurse who is fiercely protective of her family.
Aka Niviâna plays Julia, Navarro's sister, who is fighting a personal battle against her own demons, both past and present.
Isabella Star LaBlanc takes on the role of Leah, Danvers' stepdaughter, who is grappling with issues of identity and self-expression.
Joel D. Montgrand portrays Eddie Qavvik, Navarro's love interest, who is a well-connected local musher from Ennis.
True Detective Season 4 Plotline
True Detective's fourth season will revolve around the investigation led by two detectives, Liz Danvers (played by Jodie Foster) and Evangeline Navarro (played by Kali Reis), who work to uncover the enigma behind a large-scale disappearance that occurred in Alaska. HBO has released the official synopsis for the show, which is as follows:
"When the long winter night falls in Ennis, Alaska, the eight men who operate the Tsalal Arctic Research Station vanish without a trace. To solve the case, detectives Liz Danvers and Evangeline Navarro must confront their pasts and the dark truths lying underneath the Arctic ice."
Where To Watch True Detective?
True Detective: Night Country will be accessible for viewing on both HBO and HBO Max platforms. At present, True Detective Seasons 1-3 are available for streaming exclusively on HBO Max.
True Detective Season 4 First Look Teaser
Similar Series Like True Detective
Here's the list of Similar series like True Detective
The Killing
Broadchurch
Top of the Lake
Mindhunter
The Night Of
The Bridge
The Fall
Read More: