So, Jack Ryan lovers, we have some good news and some bad news. What's the good news? The production of Season 3 has commenced. What's the bad? There has been no word in almost three years on when we may expect to see the episodes.
This appears to be an objective in and of itself.
Jack faced some terrifyingly close calls towards the end of the second season (which premiered in October 2019), but where the hell has he been for the past few years?
It is hoped that we will be receiving information soon.
Here's the lowdown on the next season.
When will Jack Ryan Season 3 premiere on Prime Video?
It's hard to believe, but Jack Ryan Season 3 still doesn't have a premiere date as of August of 2022. Yet, there are hints that the season may arrive before the year is out. Season 3 production started in May of 2021. There is no information about when filming ended, but for Season 4, production started in February of that year. The release dates for Season 3 and Season 4 of Jack Ryan on Prime Video could be announced at any time. According to the premier Date, Jack Ryan Season Will Come in the winter of 2022.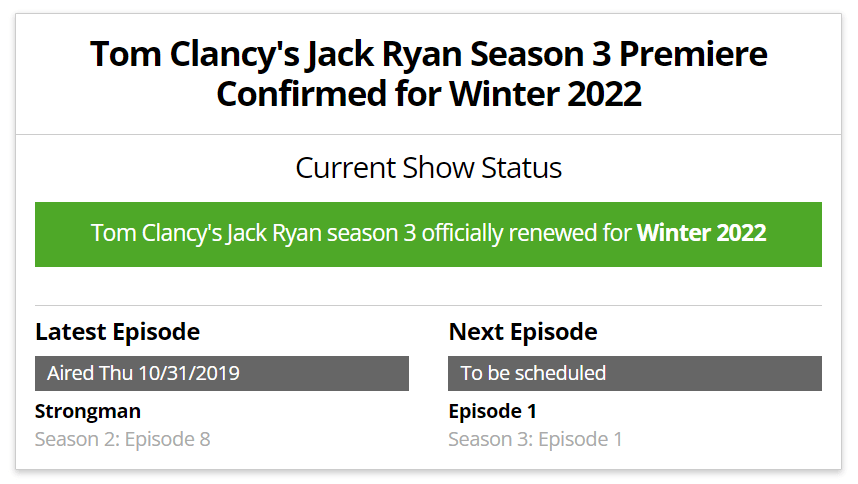 Who is in the Jack Ryan season 3 cast?
Ex-Marine turned CIA analyst Jack Ryan (John Krasinski) follows the money trail of terrorist groups. Wendell Pierce plays fellow CIA operative James Greer opposite John Krasinski in the film. In season 2, the cast expanded to include Michael Kelly (House of Cards), Noomi Rapace (Girl with the Dragon Tattoo), Jovan Adepo (The Leftovers), and Jordi Molla (Genius), Cristina Umaa (Narcos), and Francisco Denis. The most likely to return for Season 3 are Kelly, Adepo, and possibly Rapace, but this is not yet guaranteed.
The officially announced new additions for season 3 include:
Betty Gabriel (Get Out) as Elizabeth Wright
James Cosmo (Game of Thrones) as Luca
Peter Guinness (Chernobyl) as Petr
Nina Hoss (Homeland) as Alena
Alexej Mavelov (Undercover) as Alexei
Michael Peña (Ant-Man) as Domingo "Ding" Chavez
In addition to appearing regularly in Jack Ryan Season 4, Michael Pea's character "Ding" Chavez will star in his own spinoff series..
Also Read:
Jack Ryan Season 3 Storyline
Writer Tom Clancy introduced the world to Jack Ryan for the first time in his 1984 thriller The Hunt for Red October. There are already 32 novels (mainly written by Clancy) that involve Jack Ryan or his companions in the "Ryanverse," and more are on the way. Five movies have been made about the figure, with actors including Alec Baldwin, Harrison Ford, Ben Affleck, and Chris Pine taking on the role. Krasinski is the longest-serving Jack Ryan, having joined the group in the first season.
Islamic extremist threats and a rigged election in Venezuela dominated Jack Ryan's first two seasons. When season 3 premieres, what tense international crisis will Jack have to deal with? There is no lack of alternatives.
Where to Steam Jack Ryan All Season?
You Can All season of jack Ryan only on amazon prime video.
The next assignment begins. Watch Season 2 of Tom Clancy's #JackRyan now on @PrimeVideo. https://t.co/UkdaHyMGnF pic.twitter.com/0jsTqMZ8fM

— Jack Ryan (@jackryanamazon) November 1, 2019