Marshall has added another speaker to their list by producing with the most compact speaker yet, so-called the Uxbridge Voice.
The speaker was presented with a display to the masses not so long ago,
where it was learned to have an in-built Alexa and Apple air 2
which promises to provide multiroom playback capability.
The hype around it is as real as they come
and according to Marshall, they will be available to the general public by April 8 for $199.
This article completely focuses on Uxbridge voice and how it's one of the greatest creations of Marshall yet.
UXBRIDGE: FEATURES
Along with the in-built extensions of Alexa and Apple,
Uxbridge is all ready for the April launch
as it also plans on dropping another version of it soon after the first,
which promises to provide with Google assistant that will be available by June 11.
Besides that, Marshall also provides advanced connectivity options like Spotify connect and airplay 2
along with traditional Bluetooth and wi-fi.
By the looks of it, there is really not much of a mystery behind Marshall's motive,
the investments have really been made with arms wide open and they expect same the kind of output.
And with Alexa helping you with your songs, volume and additional buttons,
this indeed looks like a future gadget of the present time.
Unspecific Mentions
For such a big investment like Uxbridge Voice,
it was definitely quite weird when there were no specific mentions on its audio output.
During the presentation,
Marshall was awkwardly quiet about it and seemed to dodge the questions.
But it was confirmed that Uxbridge will come with Class D amplifiers
and would operate within the range of 54 – 20,000 Hz.
Marshall stated that they weren't able to test the audio quality to their satisfaction yet,
so hence refuse to comment on anything about it right now.
also read,
CUSTOM DESIGNING
Marshall always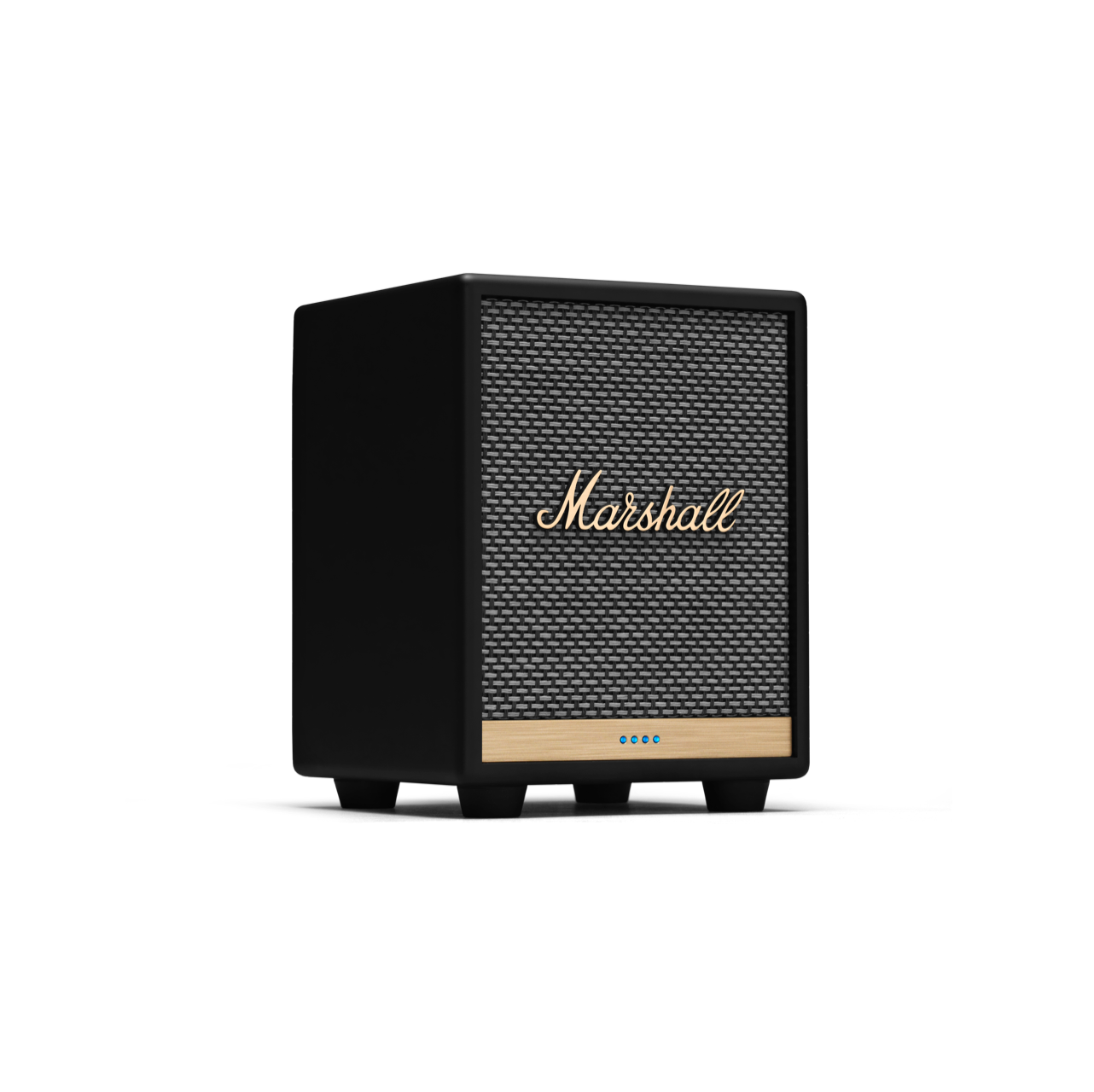 stands out from their competition no matter what,
this time was no different.
Uxbridge comes with a custom made design which makes it look like a traditional guitar,
which samurais would play before the battle.
Even though, it is different from normal,
it somehow provides just enough spark to stand out from their vast competition.
It doesn't matter how things seem to be, there's a reason Marshall is where they are today.
From content to presentation, they have always been nailing down everything
and this time feels no different either.