The Demon Slayer Mark is an awakening that improves the fighting powers of the demon slayer. It allows a Hashira to compete with and, in some situations, overwhelm higher-ranking demons.
What if a demon-possessed the demon slayer mark? It would undoubtedly be powerful enough to be an upper-rank demon. What if a higher rank possessed the Demon Slayer Mark? That's exactly what happened to Upper-Rank One, Kokushibo.
So, who exactly is Kokushibo? What exactly is his deal? Let us investigate this in this Post. This article contains spoilers for individuals who have not read the manga. Please read at your own risk.
Kokushibo Human Form
Kokushibo was Yoriichi Tsugikuni's older brother and a human during the Sengoku era. He was a great swordsman and a recognized member of the Demon Slayers corps as a human. He was, however, never able to escape the shadow cast by his twin, the founder of Sun Breathing, from which all other breathing styles are derived.
He devised his own breathing technique, Moon Breathing, out of a sense of inferiority, yet it was also derived from Sun Breathing and so did little to alleviate his jealousy. This conflict followed him till the day he died.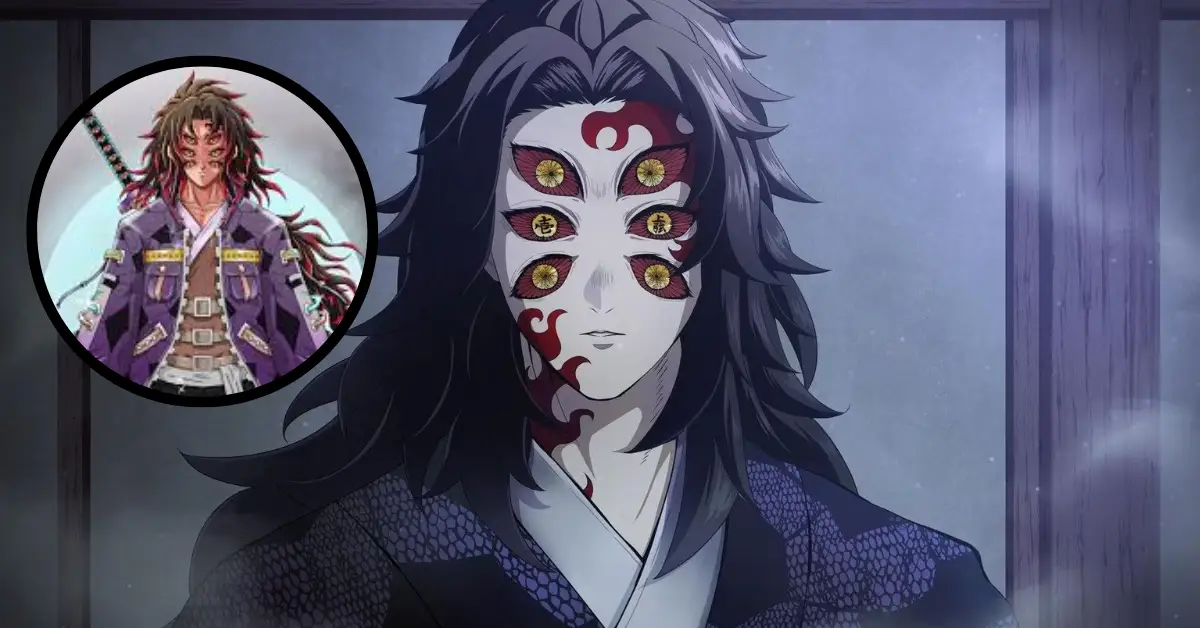 He learned under his younger brother and was able to unlock his Demon Slayer Mark, which was on both his forehead and chin, unlike his brother's. When he achieved this mark, he had conflicting feelings; he had gained higher abilities, but also the curse that would take his life at the age of 25.
He feared de@th so much that he permitted himself to become a Demon and hence immortal. As a result, he is one of the few known Demon Slayers to defect and become Demon. He abandoned a wife and two children in the process, but unlike many new demons, he did not slaughter the remnants of his human family.
Kokushibo As A Demon
Kokushibo's physical appearance changed dramatically once he became a demon. He grew two more pairs of eyes and a far more theatrical personality. He lived as a demon for approximately 480 years, successfully evading the Curse of the Demon Slayer Mark. Over the years, he rose to and held the position of Upper One of the Twelve Kizuki.
It is commonly known that he overcame several rivals for the post, but owing to the difficulty that he created, he only left Akaza alive. He used one of his unique abilities to absorb the rest of the defeated would-be usurpers; it is also thought that this was his more effective method of digesting humanity. A Twitter user Muzan Tweeted about Kokushibo as a Demon.
You can check out the Tweet below:
Alright now first of all, the most obvious thing.

Kokushibo is a DEMON. A villain. Demons are supposed to look unsettling, that's the whole point of it. He is presented as a threatening character overall. pic.twitter.com/JRUKLE3bl1

— Muzan 🌙 (@muzankibutsuuji) June 30, 2023
As a demon, he gained immense power, allowing him to eventually defeat his brother, though not with the joy he expected. Instead, his elation was clouded by the realization that his brother had escaped the curse and lived well past the age of 25, casting doubt on whether he had made the proper decision in becoming a demon. Again, the viewers are not presented with the culmination of this skepticism until he dies.
Kokushibo In De@th
He was finally defeated by one of the Hashira, Gyomei, with the assistance of one of his own descendants, Muichiro, and a few others. Kokushibo experienced a final moment of clarity just before his de@th. He understood that his search for strength, motivated by jealousy of his brother, had led him down a dark path.
Instead of becoming the ideal warrior of his dreams, he abandoned everything good in himself and devolved into what he recognized as an ugly monster. He even bemoaned the end of his own bloodline at his hands. In de@th, he denied that his first motivation for becoming a demon was fear of de@th. WhiskeyJack Tweeted about Kokushibo's de@th.
You can check out the Tweet below:
kokushibo died on the ground without even his body remaining. what remained was the flute, an object signifying their connection which yoriichi treasured while he never could. he lost everything because he couldn't be content with 'something'. he opposed the messages of the story pic.twitter.com/buQ69junpz

— WhiskeyJack (@cactuzz4nf) February 19, 2022
Instead, his infatuation with his brother is only highlighted in his de@thbed words, nearly 400 years after Yoriichi's de@th."I just wanted to be you, Yorichi."
How Did Kokushibo Turn Into a Demon?
Michikatsu aspired to be the ultimate samurai. In this quest, he grew obsessed with strength, which was exacerbated by his brother's jealousy. To gain strength, he accepted Muzan's blood and became a demon.
His demonization significantly altered his physical appearance, as he gained two extra pairs of eyes. He lived approximately 500 years as a demon before becoming one of the Twelve Kizuki. He used this against a number of opponents and defeated them all.
He only let Akaza survive out of all the devils who challenged him. Everyone else who had challenged him had been absorbed, thanks to one of his special abilities. It is also thought that Kokushibo consumed individuals in this manner.
He used his blood demon art to strengthen his moon-breathing methods after becoming a demon, creating Crescent Moon Blades. This increased the potency of his assault compared to when he wasn't using Blood Demon Art.
Though it is unknown how many breathing technique forms he mastered separately as a human and a demon, each form was augmented by his Blood Demon Art. He continued to use his Nichirin Blade after becoming a demon, modifying it with his own demonic blood and flesh. This increased the sword's durability and sharpness.
Discover the top 10 anime of 2023 and see if your favorite series made the cut! From thrilling adventures to heartwarming stories, explore the best anime releases of the year in this exciting list.
How Kokushibo Attained The Demon Slayer Mark:
During his training with Yuriichi, Michikatsu activated his Demon Slayer Mark. His speed and strength were greatly enhanced as a result of the mark. He even developed the ability to see through a transparent universe.
The transparent world technology allows users to precisely observe the opponent's blood flow and muscle action. Allowing them to anticipate and avoid them. The Mark also came with a curse that the person would die at the age of 25.
Michikatsu was no longer bound by the curse after becoming immortal as a demon. He was even able to glimpse into Transparent World after becoming a demon. He was so skilled at the technique that he deduced Mist Hashira, Muichiro Tokito's descendant, and Genya had ingested demons to achieve strength.
The demon recognized Gyomei, Sanemi, and Muichiro's abilities. He saw everything at a single glance! Kokushibo was also skilled in flesh manipulation, as proven by his ability to merge his weapon with his flesh, sharpening the sword.
He changed his body into a ferocious and horrific visage after being severed. Appendages, tiny tubes, sharp mandibles, and horns sprouted from him.
Conclusion: What if a demon had the Demon Slayer Mark, a powerful boost for demon slayers? Former human swordsman Kokushibo became a demon out of jealousy. Kokushibo's rise to Upper One of the Twelve Kizuki shows Demon Slayer power, rivalry, and regret. Kokushibo's story shows the dangers and rewards of courage from his human roots to his demon metamorphosis.
Your readership matters to us! Remember to revisit Thetecheducation.com for exciting new content in the future.