Kaitlin Bennett, a Trump supporter, incited a protest while defending him.
After a stunt she pulled in 2018, she came to be known as "Kent State Gun Girl." The action included her attending her university graduation carrying an AR-10 rifle. Among the Trump administration and his supporters, she has been a popular figure.
Bennett, previously linked to Alex Jones of InfoWars, is famous despite a lot of other controversies. Another dispute includes leaked anti-Semitic group texts for which she's still incredibly popular.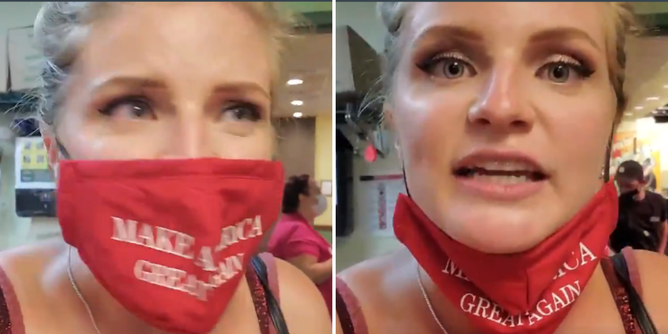 A group on campus invited Kaitlin Bennett to the University.
University students quickly criticised her for not wearing a mask and saying that she didn't have to – even though the University of Central Florida has a policy on mask-wearing.
before the maga mask but okay… pic.twitter.com/b0BfYgPvmL

— julia (@julialevans_) September 10, 2020
The University was the accused of lying. Bennet said, she went to the campus to ask students, who would be a better president. Bennett has her website and is incredibly active on social media, where she often posts' vox pops'. Vox Pops are short clips speaking to people about an issue.
She also alleged that her head of security had spoken to UCF police Commander Freeman about the situation. They gave her and her team reassurances that they would not force to wear masks.
What liars! I went to @UCF to ask students who would be a better president for black Americans, Trump or Biden, and YOUR students got violent and violated your COVID-19 policy that prohibits social gatherings of more than 12. But you didn't enforce that, did you? https://t.co/kIlmsbkZJI

— Kaitlin Bennett (@KaitMarieox) September 10, 2020
Bennet complied with a pro-trump face mask as she walked around the uni for the rest of the day. Kaitlin tweeted that she wanted Trump to defund public Universities. She claims that they are centres for left-wing indoctrination.
My message to @realDonaldTrump is simple. It's time to DEFUND public universities. Not another penny in taxes should go to these left-wing indoctrination centers! #DefundUCF pic.twitter.com/fmrRd8btWb

— Kaitlin Bennett (@KaitMarieox) September 11, 2020
Footage later emerged of crowds of people on what seemed to be the UCF campus following her around and asking her to leave, as well as what seemed like some brawl after her security got involved.
Raph Merritt sent a footage that shows individuals walked around UCF's loop and as everyone approached the Engineering Building. It was also famous that her security created an uproar.