Cher, an American singer, shared a picture of a sizable diamond ring with a pear shape that her boyfriend Alexander "AE" Edwards gave her, with "THERE R NO WORDS" as the caption. After seeing the photo and caption, many fans are now wondering if the cher is engaged.
So what are you waiting for? Scroll down to learn more about Cher's engagement.
Cher's "Engagement Ring"
After posting a picture on Twitter of a dazzling diamond ring that she received from her boyfriend, Alexander "AE" Edwards, a music executive who has been working in the music industry for a long time. Cher sparked rumors on Sunday (Christmas day) that she was about to announce her engagement.
THERE R NO WORDS,
ALEXANDER,A.E pic.twitter.com/TZOYLGVWkv

— Cher (@cher) December 25, 2022
Cher, who is 76 years old, tweeted on Christmas Day, "THERE R NO WORDS, ALEXANDER, A.E.," with a picture of the ring in its open box. An hour later, she clarified that she was simply highlighting her 36-year-old beau's neon green fingernail polish. The "Believe" singer wrote, "I posted this cause his nails are so cool,"
Is Cher Really Engaged?
Last month, Cher revealed her connection with Alexander. However, these messages don't prove for sure that the two people in love are engaged.
Also, Cher hasn't said for sure what the ring post means. But, she has been very open about her new relationship.
Last month, when she and Edwards were seen holding hands on November 2 and wearing matching all-black clothes outside L.A. hotspots. After that, She has been extremely open and answered fans' questions on social media.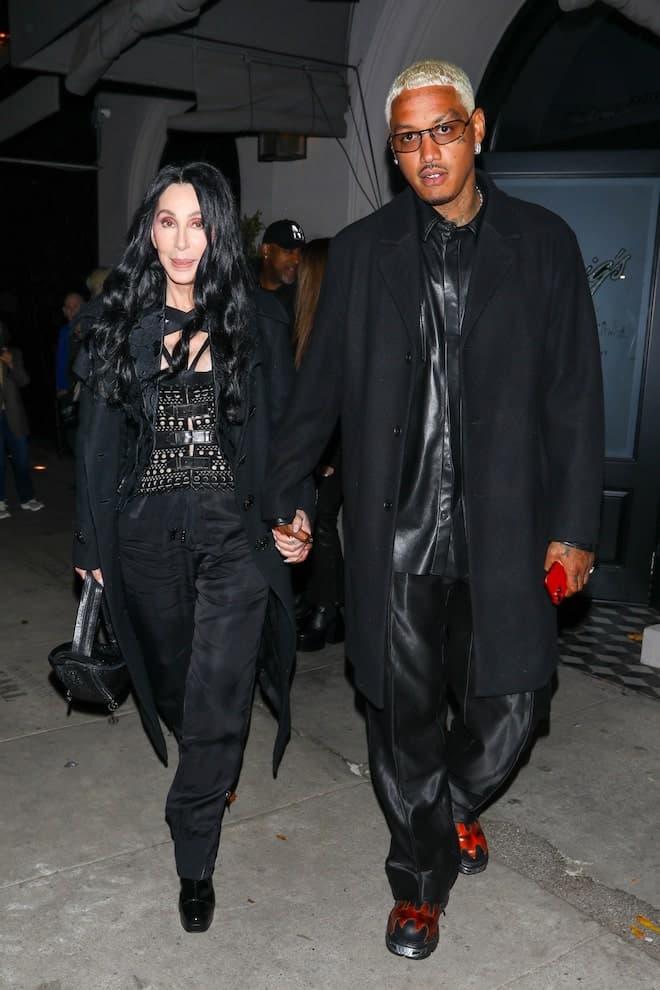 When a fan asked if Alexander was actually her "new man, "Cher responded with a simple smiley face and heart emoji. She answered similarly when another Twitter user tweeted, "Good for you. Enjoy what you're doing and who you're with, and FK everyone else. You deserve to be happy."
Cher also tweeted on November 6: "I'm not defending us." "Haters Will Hate… Even though we're happy and not bothering anyone, it doesn't matter."
Cher's Marital Status?
Cher was married to Sonny Bono from 1964 to 1975 and to Gregg Allman from 1975 to 1979 before she met Edwards. During the 1980s, she dated a number of younger men, such as Val Kilmer, Tom Cruise, and Rob Camilletti.
Does Cher Have Kids?
Well, Cher is a mother of two. Chaz Bono and Elijah Blue Allman are her children from her first husband, Sony Bono, and her second husband, Gregg Allman.
Additionally, Before Cher, Edwards also dated Amber Rose for three years before they broke up in August 2021. He has a 3-year-old son named Slash with Amber Rose, who he dated from 2018 to 2021.
Read More