At his Los Angeles sex crimes trial on Wednesday, Harvey Weinstein was forced to change seats after a sheriff's deputy claimed he was looking at the jury.
According to The Wrap, the 70-year-old accused of abusing five women between 2003 and 2014 was seated improperly at the defense table, giving him a clear view of the 12 people sitting in the jury box. When the first of the eight women scheduled to testify against Weinstein claimed he raped her inside a Beverly Hills hotel room in 2013, the alleged staring allegedly took place.
She claimed that during the assault, Weinstein made her engage in oral sex before compelling her to use the restroom, where he made several attempts to pierce her vagina with his fingers and penis before masturbating after experiencing "trouble with an erection." The woman, who was given the name Jane Doe 1 in court, claimed that Weinstein threatened her later by saying, "You don't know me."
On Wednesday, Weinstein's attorney insisted their client was acting appropriately and asked the judge to permit him to continue sitting next to the table because his wheelchair took up a lot of room. Weinstein was forced to move away from the jury's line of sight after his request was turned down, though according to The Wrap, he almost immediately started staring at them again.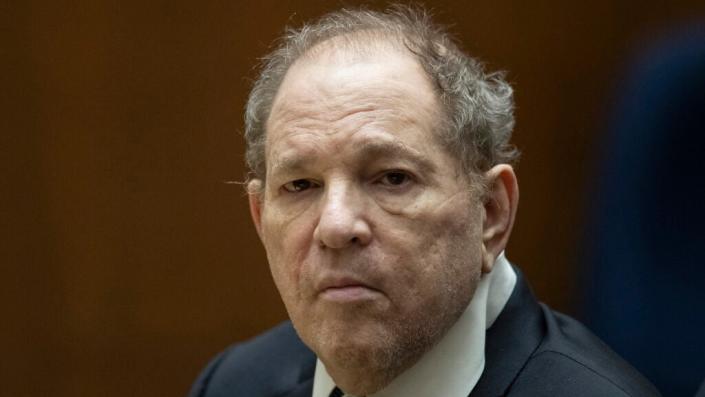 A Weinstein spokesperson denied suggestions that the ousted Hollywood heavyweight was purposefully staring at anyone.
Juda Engelmayer stated to The Daily Beast on Thursday that Harvey is "wheeled in with help, helped by the guards or lawyers into a stationary chair, and that is where he sits." He is attempting to avoid looking the jury in the eye because he is uncomfortable doing so and worries about what they might be thinking about him.
Weinstein "has been feeling confident, but uneasy," the spokesperson continued, regarding his upcoming second sex crimes trial. Engelmayer continued by claiming that the prosecution was using evidence—such as Weinstein staring at the jury—to support its case that Weinstein was a strong man who routinely harassed women and tried to silence them.
Read More:
Harvey Weinstein's Courtroom Chair Moved So He Can't Keep 'Staring' at the Juryhttps://t.co/SQhQW5vnsj

— Tommy Lightfoot Garrett (@LightfootInHwd) October 28, 2022
Weinstein has already been found guilty of sex crimes in New York and is currently serving a 23-year sentence there; however, the case is currently being appealed.
Jane Doe 1's allegations were supported by a number of prosecutorial witnesses who gave testimony on Thursday, including Weinstein's former limo driver. Alfred "Freddy" Barmouth testified that he dropped Weinstein off at the Peninsula hotel after midnight on the night of the alleged assault in February 2013 at the Beverly Hills Hotel Mr. C. The driver added that it takes six minutes to travel between the two hotels and that Weinstein frequently went to Mr. C for dinner or business events.
Additionally, the driver gave details about what it was like to work for the disgraced producer up until 2017, mentioning that he frequently had to rush Weinstein from one event to another.
There was no such thing as a red light if we were late. We would rush through it if we were in a hurry," he said, drawing laughter from the jury.
FAQs
What is Harvey Weinstein known for?
Weinstein, 70, who is accused of using his position in the entertainment industry to seduce and abuse five women in Los Angeles between 2004 and 2013, has pleaded not guilty to all 11 charges brought against him, including rape and sexual assault. He could receive a sentence of up to 140 years in prison if found guilty.
What verdict did Harvey Weinstein receive?
On two counts of committing a criminal sexual act in the first-degree and third-degree rape, Weinstein was found guilty in February 2020. He received a 23-year prison term in the state of New York.
What has Harvey Weinstein become?
The disgraced producer will have the chance to present his case before the New York Court of Appeals while he is serving a 23-year prison term.
Why did Harvey Weinstein have such influence?
Weinstein's two companies, Miramax and The Weinstein Company, produced numerous movies, which is a reflection of his influence in Hollywood. Many of those movies served as launching pads for successful acting careers.