Gillie is a Philadelphia, Pennsylvania-based rapper and podcaster. The kid is most recognized for his role as co-host of the hip-hop podcast Million Dollaz Worth of Game. He co-hosts the podcast with Wallo267, also known as Wallace Peeples.
Million Dollaz Game is a weekly podcast popular among hip-hop fans and the African-American community. On their show, which has 1.19 million YouTube subscribers, Gillie and Wallace have interviewed musicians such as Snoop Dogg, Meek Mill, Kevin Durant, and 2 Chainz.
The kid is a multi-talented individual that is involved in a variety of undertakings. He has worked as a ghostwriter for Cash Money Records and as an actor in addition to his podcast and rap career. But in this post, we will majorly focus on his relationship with his wife and many other things, so keep reading to know more.
Who Is Gillie Da Kid's Wife?
Regina Little, Gillie Da Kid's wife, is a makeup artist residing in Philadelphia, Pennsylvania. Regina was nominated for an Emmy Award in 2021. Regina has worked in the makeup department of well-known television shows and films such as Chase Street, Blood Brotha, and WandaVision.
She also appeared briefly in the 2010 film Caged Animal, alongside Ving Rhames, Nipsey Hussle, and her spouse Gillie. Little was nominated for an Emmy Award in the Outstanding Period And/Or Character Makeup (Non-Prosthetic) category in 2021 for her work in WandaVision.
However, she was defeated by Daniel Parker, who received the award for his work in The Queen's Gambit. Regina is a hugely influential social media figure in addition to her job as a cosmetic artist. She has almost 254k followers on Instagram. She posts her personal life-related picture too, recently she posted a picture of Gillie Da Kid and herself.
You can see the picture below:
View this post on Instagram
Relationship Between Gillie Da Kid and Regina Little
Gillie Da Kid has been married to Regina Little for about 25 years. The rapper discussed his relationship with his life partner in a 2022 interview published on the Day1ss TV YouTube channel. He stated that Regina has always been faithful to him and has never desired a lavish lifestyle.
Similarly, when he was imprisoned in 2007, the artist said she went to prison with him. Regina was imprisoned for ten days but never complained. During their time in separate jails, she frequently penned letters to her husband, encouraging him not to succumb to stress.
Regina and Gillie have not revealed how they met or how their relationship developed. However, it's clear that the two started dating as teenagers. The couple has been open about their marriage and frequently compliments each other on being the ideal companion. The rapper frequently posts short videos in which he goes to considerable lengths to irritate Little. Below we have given one of his recent videos, which he posted with his wife.
View this post on Instagram
Regina Is Four Years Older Than Gillie
The age difference between Regina Little and Da Kid is only four years. Regina was born on October 9, 1979, and is 43 years old. Regina's spouse is 39 years old. Gillie Fard was born Nasir Fard on July 31, 1983, in Philadelphia, Pennsylvania. He grew up with two sisters.
Regina, on the other hand, was born to a Korean mother and an African-American father. The makeup artist grew up with a brother named RL Way and a sister named Delilah Little. Little is proud of her Korean roots and even traveled to Korea to find her mother's family. She visited Seoul, Korea, in 2019 and was ultimately reunited with her mother's family after a seven-day search.
Regina and her mother went to many police stations but were unable to locate her maternal family. After visiting the civil building in her hometown, she was finally able to locate her mother's relatives.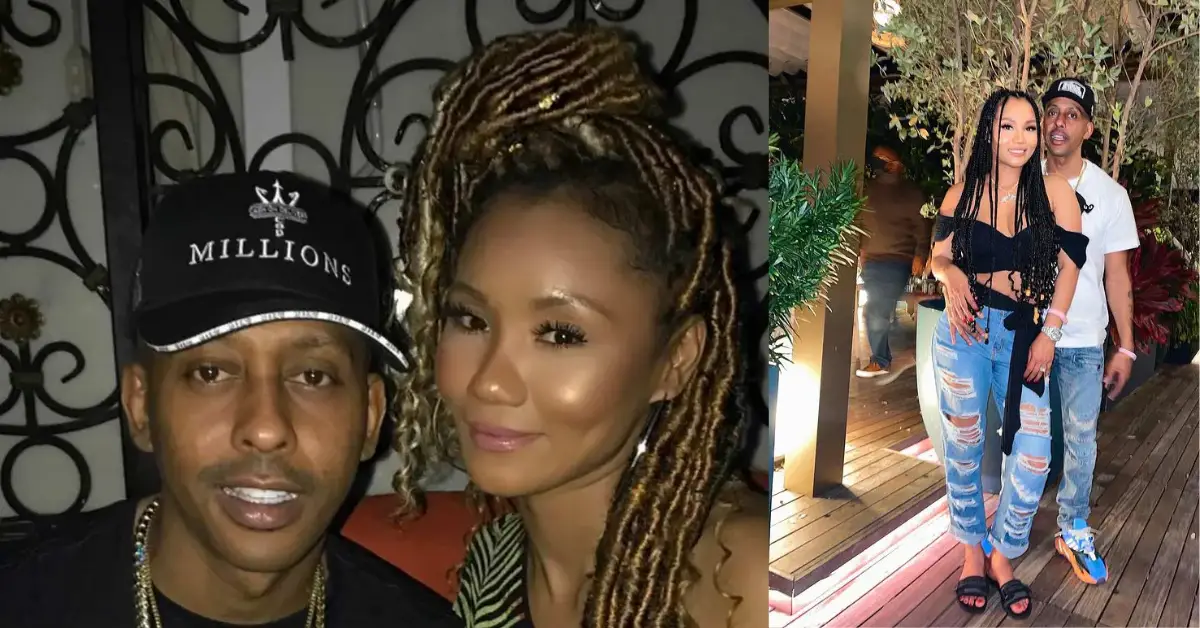 Get to know the personal side of Busta Rhymes! How many children does the legendary rapper have? Find out the heartwarming stories of his family life and the joys of fatherhood.
Gillie and Regina are the parents of five children
Gillie Da Kid and Regina Little have five children from their lengthy marriage. The family consists of three sons and two girls. Their two kids' names are YNG Cheese and Mac, and their daughter's name is Nyla. The identities of their other two children have not been revealed.
Gillie's first child, YNG Cheese passed Away on 20 July 2023 (You can read more details about him in the next section of this post). Similarly, Mac, also known as TR3Y SEVEN7, is his child.
Gillie and Regina have a grandson in addition to their five children. On April 15, 2021, YNG Cheese and Cherie B welcomed their first grandchild.
View this post on Instagram
Gillie Da Kid Son YNG Cheese Passed Away
According to NBC Philadelphia, YNG Cheese was a victim of a triple shooting in Philadelphia on July 20, 2023. According to authorities, the incident happened at 8:24 p.m. in the city on the 5800 block of Mascher Street. Daily Loud Tweeted about his Tragic death.
You can check out their Tweet below:
Gillie Da Kid's son "YNG Cheese" has reportedly passed away. Prayers up to Gillie and his family 🕊️🙏 pic.twitter.com/wcxeFfohzh

— Daily Loud (@DailyLoud) July 21, 2023
It's believed he was shot in the back and then transported to the hospital by cops, where he died at 8.39 p.m. While the deceased has not yet been properly recognized, a family member verified to the news site that the victim was YNG Cheese.
A 28-year-old man and a 31-year-old man were both shot and hospitalized. They are said to be in good health. According to cops, one of the victims rushed over to a nearby home, and ten spent shot casings were discovered at the site. So yet, no arrests have been made, nor have any firearms been seized.
We appreciate your readership! If you found this post helpful, please bookmark Thetecheducation.com so you can easily find it again.