In today's digital age, video content has become integral to any successful marketing strategy. With social media platforms' popularity soaring, choosing the right one to showcase your videos and connect with your target audience is crucial. Each platform has its unique features, user demographics, and content formats, so it's essential to consider these factors before diving into the world of video marketing.
CapCut, a free online video editor, provides you with video export settings that determine which platform you will use for your content. In this article, we will explore the various social media platforms and help you decide which platform aligns best with your video content strategy.
Top 5 Social Media Platforms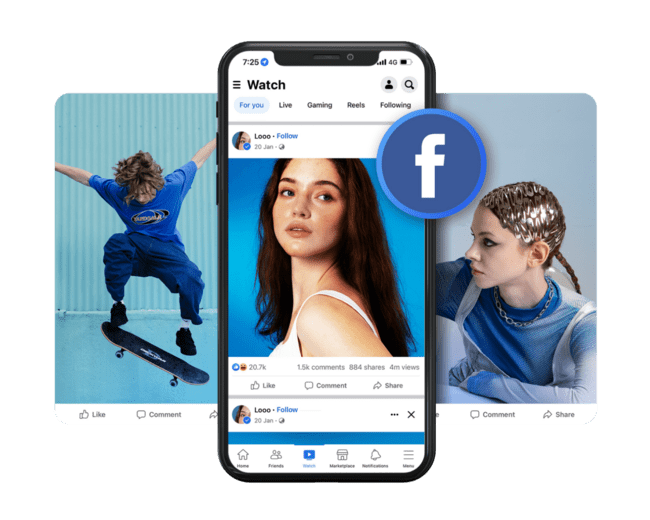 Source: CapCut
Below are the top 6 social media platforms that you can use to showcase your content;
YouTube: The Reigning Video King
Source: CapCut
With its staggering user base of over two billion monthly active users, YouTube is undoubtedly the go-to platform for video content. It offers a vast range of content genres, from educational tutorials to entertainment and everything in between.
If you have long-form video content or want to create a dedicated channel to build a loyal subscriber base, YouTube is the perfect platform for you. Additionally, YouTube's search engine optimization capabilities allow you to reach users searching for specific topics, making it ideal for discoverability and evergreen content.
Instagram: Visual Storytelling at Its Finest
Source: CapCut
Instagram, known for its visually appealing content, has evolved into a hub for short and engaging videos. With over one billion monthly active users, it offers various video formats such as Stories, IGTV, and Reels. If your video content thrives on visual storytelling, behind-the-scenes glimpses, or showcasing products and services, Instagram can help you create a strong visual brand identity. Its highly active user base and interactive features, such as comments and direct messaging, foster community engagement.
TikTok:Riding the Wave of Virality
Source: CapCut
TikTok, the rising star of social media, boasts an impressive user base of around 700 million monthly active users. It revolves around short, snappy videos with a maximum duration of 60 seconds. TikTok is a goldmine if your video content is geared towards entertaining and engaging the younger demographic.
Its algorithm favors content discoverability and can catapult your videos into viral sensations overnight. With TikTok, you have the opportunity to tap into the latest trends, challenges, and music to create content that resonates with a vast audience.
Facebook: The All-In-One Platform
Source: CapCut
With a colossal user base of over 2.8 billion monthly active users, Facebook remains a powerhouse in the social media realm. Although video content on Facebook is diverse, it's best suited for shorter, engaging videos that capture attention quickly. Facebook's ad targeting capabilities make it an excellent choice for reaching specific audience segments.
Additionally, if your video content aligns with the sharing and discussion of ideas, Facebook Groups and Pages provide spaces for community building and fostering meaningful conversations.
Twitter: The Platform for Real-Time Engagement
Source: CapCut
With its fast-paced nature, Twitter is perfect for sharing bite-sized video content that sparks immediate conversations. With around 330 million monthly active users, Twitter allows you to share short videos, GIFs, and even live video broadcasts.
If your video content strategy revolves around breaking news, trending topics, or engaging with a highly vocal audience, Twitter's real-time engagement and retweet culture can help amplify your message. It's a platform where concise, impactful videos thrive and can quickly gain traction through viral sharing.
Factors to Consider When Choosing a Platform for Your Content
Source: CapCut
When choosing a social media platform for your content, several factors must be considered. These factors can significantly impact your content's reach, engagement, and success. Here are some key points to keep in mind;
Target Audience: Understand your target audience's demographics, interests, and preferences. Different social media platforms attract distinct user bases. For example, younger audiences may prefer platforms like TikTok or Instagram, while professionals might be more active on LinkedIn.
Content-Type: Consider the type of content you plan to create and share. Platforms like Instagram or Pinterest may be more suitable if your content revolves around visuals. LinkedIn or Medium could be a better fit if you're focusing on written articles or blog posts.
Platform Features: Evaluate the features offered by each platform and how they align with your content strategy. Some platforms emphasize video content (e.g., YouTube, TikTok), while others are more text-focused (e.g., Twitter). Look for features that can enhance your content, such as stories, live streaming, or advertising options.
Engagement and Reach: Research the engagement rates and reach the potential of different platforms. Look at factors like average post engagement, active user base, and algorithmic reach. A platform with high engagement and a large user base can help your content reach a wider audience and generate more interactions.
Branding and Image: Consider the branding and image of your content and how it aligns with the platform. Each social media platform has its own culture and atmosphere. Ensure that the platform you choose reflects the tone, values, and aesthetics that resonate with your brand.
Competition and Saturation: Assess your niche's competition and saturation levels on each platform. Some platforms may be oversaturated with similar content, making it harder for your content to stand out. Research your competitors' presence and evaluate if there is an opportunity for your content to gain visibility.
Analytics and Insights: Look for platforms that provide detailed analytics and insights into your content performance. Understanding metrics like reach, engagement, click-through rates, and audience demographics can help you optimize your content strategy and track your progress.
Time and Resources: Consider the time and resources required to manage and maintain a presence on each platform. Different platforms demand varying levels of content creation, community management, and platform-specific strategies. Be realistic about what you can consistently manage without compromising quality.
Integration and Cross-Promotion: Determine how well the chosen platform integrates with your existing marketing efforts and if it allows for cross-promotion across different channels. A cohesive online presence can reinforce your brand and amplify your message.
Privacy and Security: Pay attention to each platform's privacy and security practices. Ensure that the platform you choose aligns with your privacy requirements and provides adequate measures to protect your content and users' data.
In Conclusion
The key to choosing the right social media platform for your video content strategy lies in understanding your target audience, the nature of your video content, and your marketing goals. Before sharing your video on social media, ensure that you make use of all of CapCut's editing tools, including the video background remover.