n a Facebook update, New Hampshire State Representative has been put under investigation for vandalizing Black Lives Matter signs. The post is now deleted, but legal action has already been taken.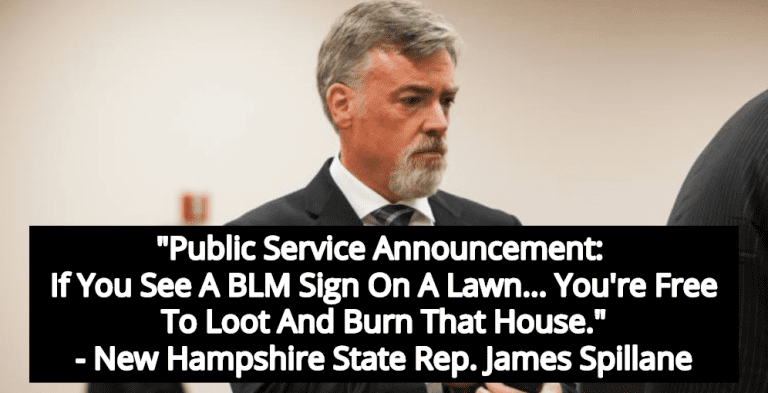 His post vulgarly allowed fellow citizens to Trespass or Looted the houses which have BLM signs in their lawns. The republican Legislator now under investigation. To determine his violation, NH attorney general is ready to
Tons of Hampshire Residents have called for his resignation.
New Hampshire's Attorney general, Sean Locke said they received several complaints from public, who forwarded his Facebook post to officials. The complaints sent along their interpretation of the Facebook post. There were concerns that they could be victims of targets of violence as a result of the Facebook post."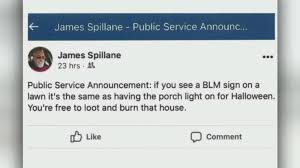 This is not Spillane's first controversial statement.
Because of his rebellious attitude, Spillane received a large amount of criticism previously. He looked down upon for sharing a snap of a bloodied squirrel.
He posted the photograph along with the revelation, "I shot a squirrel on my bird feeder today with a .50 calibre muzzleloader. Enjoy."
Soon after this post, Spillane lost a seat in his Legislative Committee because of his indecency.
A tweet then, prompted by the State Fish and Game Department. The department sent officers to his house to ensure him that he had no legal right to shoot except for the hunting season.
NH Hunting season runs from the 1st of September to 1st of January.
In his letter to Shurtleff, Sean Locke, dated Thursday. He said BLM supporters expressed it is a total lack of decency.
Founder of Black Lives Matter, Jordan Thompson, Nashua and a racial justice organizer for the ACLU of New Hampshire, also called on Spillane to resign.