If you've always been at the forefront of learning about new technologies and fell in love with binary code as a teenager, a career as an IT developer might be the right fit for you. The tech industry is booming with constant solutions to develop, which means there is always a place for a new specialist. Despite the insane competition, a beginner has all chances to enter the industry. If you're not the most sought-after developer, don't worry! We got you covered.
How to win your first job in the IT segment if you've got no experience at all? Check the tips from our experts in the article below.
Power Up Your Job Search With a Cover Letter
The biggest mistake of a beginner is not writing a cover letter. Everyone remembers to write a resume, but most job seekers avoid creating a cover letter. We advise you to hire a cover letter writing expert and increase your chances of securing a first IT job. Why so? A cover letter is a document that tells the reader about your skills, career goals, and accomplishments, even if your recent achievement is a college project on cybersecurity.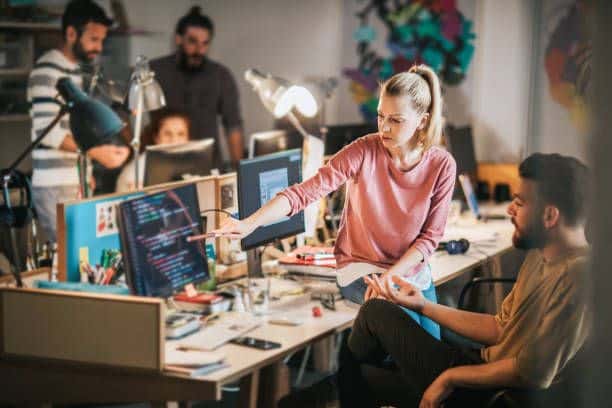 What to remember when writing a cover letter?
Follow a rigid structure. Greet the reader, proceed with the letter's goal, and mention the job position you're applying for. Further, tell the reader about your accomplishments in one or two paragraphs. Mention your skills and explain how the company will benefit from hiring you;
Be persuasive. Write more about your passion for programming and why you're a valuable 'asset' to the company;
Focus on the format. Don't make your cover letter too long or too short. One page is the perfect length.
#2: Skills Matter
The applicant's skills prove their knowledge and ability to perform the job. Therefore, pay extra attention to this part of your resume. Before you start filling in the Skills section, choose the right format. Since the Chronological format emphasizes your work experience and accomplishments, opt for the Functional one. The latter opens your resume with a Summary or Objective and proceeds with the Skills section.
We advise you to divide your Skills section into Hard and Soft Skills.
Which hard and soft skills to mention in your IT resume?
Hard Skills
Critical thinking skills;
Analytical skills;
Superb knowledge of programming tools (list them all or the core ones);
Cloud computing skills;
DevOps skills;
App development skills.
Soft Skills
Communication skills;
Interpersonal skills;
Self-discipline;
Time management;
Stress resistance.
#3: Get Certified
Apart from traditional IT skills, you'll need a document that proves your education to the potential employer. Unless you're a renowned tech developer with an innovative project that has already won millions of hearts, focus on acquiring the knowledge to help you start an IT career. Don't want to enter college? Proceed with IT courses online. Check the following platforms to develop skills so much demanded in the IT industry.
Coursera. The leading platform for IT beginners. Once you join the platform, you get the best programs from top world universities. For example, you can get a Master of Science in Cyber Security degree at the University of London or a Master of Computer and Information Technology from Penn Engineering. These are only examples. In reality, the platform suggests more than 4 thousand IT-related courses. Check them out!
Udemy. Here, you'll get IT courses directly from professionals. They are short and will save you money compared to a traditional college education. A great place to consider if you've already capitalized on some IT knowledge;
edX. Want to learn more about blockchain technologies and computer programming? This platform uses the 'study-and-apply' approach for more effective learning—a great place to upgrade your cloud skills or study a new programming language.
#4: Volunteer!
In the capitalist world, where gold coins or bitcoins measure everything, volunteering is not the first idea to pop up in someone's head. So why should you volunteer your services without an opportunity to get properly paid? Think of volunteering as an investment. By volunteering for a start-up, you help the company grow and improve its business activities. By doing so, you get your first references apart from the reviews provided by your college professors. In the end, your "References List" is ripping with positive reviews of your work. But guess the best part of volunteering – you get your job experience!
Check the list of companies to start volunteering for right now.
Non-profit organizations. Find your very first IT project on platforms such as Donate Code or Catch a Fire;
Teaching communities. At Coder Dojo or Code the Dream, you can teach coding to children or everyone coming from impoverished communities;
Check open-source projects. Platforms like Up For Grabs or Code Triage are great places to find an inspiring project.
#5: Increase Your Online Presence
Leave your digital footprint on freelance platforms and social media sources. In the twenty-first century, most of the marketing happens on social media. Think of yourself as a brand you need to promote in order to win attention and your first job proposal.
How to improve your digital presence?
Register on platforms like Upwork and Toptal. There is a high chance you'll catch your first IT project here;
Create a LinkedIn account. Another great place to promote yourself as an aspiring IT specialist with ideas worth millions;
Start writing a blog or creating your website. By doing so, you give the potential clients or employers a chance to reach out;
Follow your dream company online. This will allow you to get notifications on the newly opened job positions.
Final Thoughts
Winning the job hunt in the IT industry, where job experience matters, is tough. However, it doesn't sound impossible if you know the right steps. Join an IT course and get certified, upgrade your skills, and compose a job-winning cover letter. Volunteer for a start-up or increase your online presence. Don't forget to be kind to yourself in case of failure. Learn a lesson and keep going!
We hope the article was helpful to you. Good luck!